Each year Christmas brings a magical atmosphere, but let's face it, the holiday season can be really overwhelming for many of us. If you're on the hunt for the perfect gifts to treat your loved ones this holiday season, look no further.
At the Village Rock Shop, we've rounded-up fully customizable gift sets for all tastes and preferences. These locally sourced holiday gift sets were created with the intention to provide wonderful moments during the festive season.
Our 2020 Christmas gift sets are available now to buy - these gift sets are sure to delight any crystal lover.
Whether your loved one is a die-hard crystal enthusiast, or completely new to the crystals world, these gift sets are the perfect gifts for the 2020 holiday season! Visit Village Rock Shop to purchase unique Christmas gift sets for an affordable price - under 15$.
Aromatherapy & Smudging Holiday Gift Sets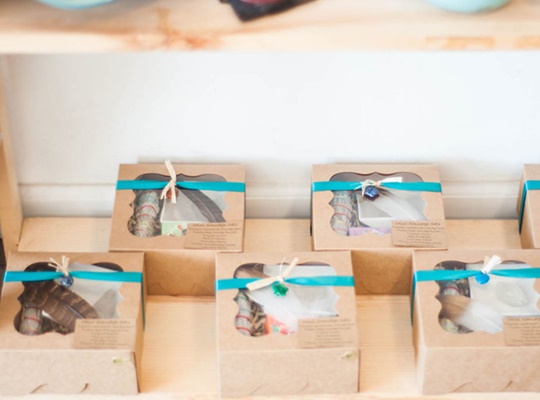 Let go of stress this holiday season with a relaxing aromatherapy set. This holiday gift set is absolutely mesmerizing, it contains handmade and all-natural products, perfect for a regenerating and purifying, sustainable pamper gift.
The scents are magical and relaxing. We have created the Aromatherapy & Smudging sets to provide a unique experience.
Choose from our Aromatherapy & Smudging Gift Sets:
Manifesting Holiday Gift Sets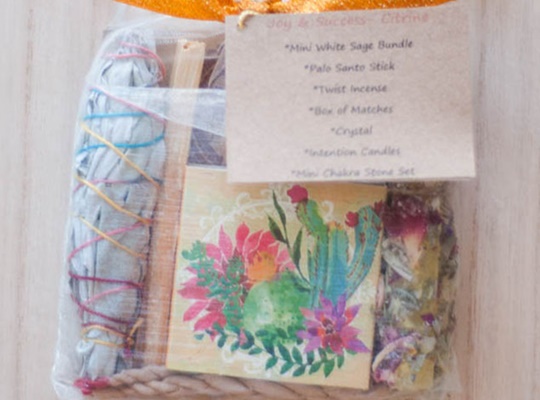 Containing a mini white sage stick, palo santo stick, Tibetan rope incense, and scented candles this set brings the natural fragrance of spiritual herbs. An excellent way of manifesting positive energies is to surround ourselves with powerful crystals.
The Manifesting Holiday Gift Set combines the manifesting energy of the crystals with the clearing effects of the smudging sticks. The crystals we selected for these gift sets will help you manifest prosperity, harmony and joy during this holiday season.
Choose your gift sets from:
Meditation Holiday Gift Sets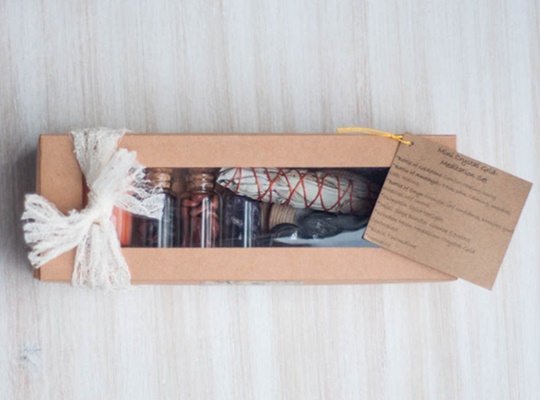 I believe, Christmas is the perfect time to offer some meaningful crystal gifts to your loved ones. We can wear crystals as jewelry, sleep with them under the pillow, display them in the house, or use them for meditations.
These Mediation Holiday Gift sets make the perfect gifts for any spiritual practitioner or crystal lover. The sets contain various gemstone bottles, scented natural candles, sage sticks, crystals, and crystals grids.
Select from our Meditation Gift Sets created with care:
In our shop, you will also find high-quality raw and tumbled crystals, palm stones or crystal spheres for your meditations.
Christmas Self Care Gift Sets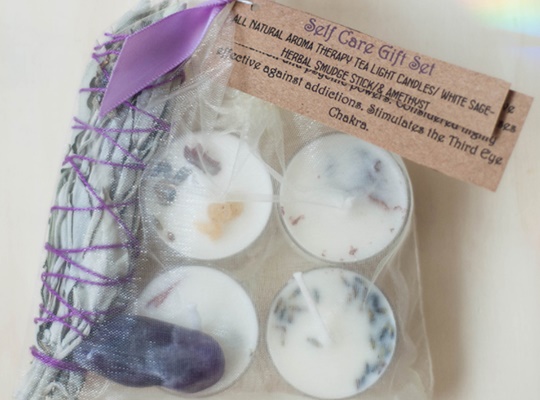 Not everyone enjoys the festive season, some people find it stressful or emotionally difficult. With all this in mind, we've picked out some of the most popular self-care gift sets to consider as pampering Christmas gifts for your loved ones.
The ultimate pamper gift set contains 4 all-natural T-light candles made of soy wax, essential oils and herbs, locally sourced, small sage bundle, and crystals to infuse your holiday with the energies of prosperity, abundance, peace, and joy.
Surprise your loved one with a Self Care Christmas Gift Set:
Custom Crystal Gift Sets for Christmas 2020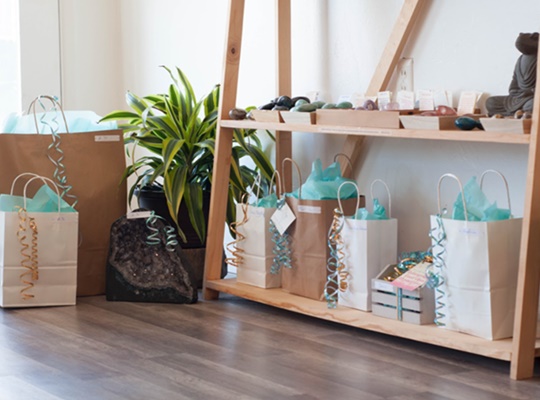 Let us help you with your holiday shopping! Just tell us what your loved ones are interested in and then relax, we will create a customized gift set, add a note and ship it for you!
After you place your order send us an email with details: is your loved one interested in certain crystals, or you just want a good mix of our products: crystals, gemstones, scented candles, spiritual herbs, essential oils, crystal infused sprays, crystal jewelry, all-natural soaps, bath salts, dreamcatchers.
We can personalize your gift with a message on a small accompanying card. Let us know what your note should say. Gift wrapping is also available with a special label saying; "Do not open until Christmas."
We wish you days filled with peace and joy. Merry Christmas!