If you just started dating someone or you've been in a relationship for quite some time now, you can show off your affection and love to the world by wearing matching crystal bracelets.
And besides the feeling of closeness that a matching accessory can bring to the relationship, crystal bracelets can act as excellent energy support for your love life no matter the stage of your relationship. Wearing matching crystal bracelets can help you synchronize your energy with your lover's and feel connected on a higher level even when you are apart.
If your partner is not knowledgeable about crystals, buying them a matching bracelet can be an excellent opportunity to share your passion for crystals and gems with them and give them a chance to know you better.
So choose crystal-matching bracelets based on your intuition or on the aspects of your relationship that you wish to improve and share your desire with your loved one.
Matching Strawberry Quartz Bracelets for Harmony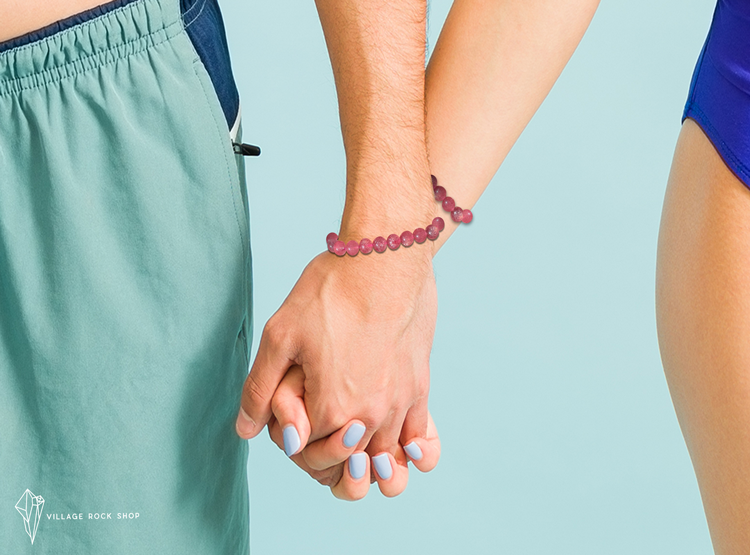 If your partner is not too shy to wear a little pink, a Strawberry Quartz bracelet is an excellent choice for couples who want to vitalize the energy of their hearts and amplify their feelings of love.
The bracelets' gentle energy can also bring lots of generosity and appreciation between lovers and harmonize interactions.
Wearing matching Strawberry Quartz bracelets will help you thrive as a couple and individually due to the crystal's properties that promote emotional and mental healing.
So if both of you have to deal with personal emotional baggage from past relationships, the bracelets will support your individual healing processes and bring you closer, strengthening your love and understanding of each other.
And if your relationship is already going smooth, the Strawberry Quartz bracelets are sure to maintain that loving vibe.
Matching Rose Quartz Bracelets for Enhancing Love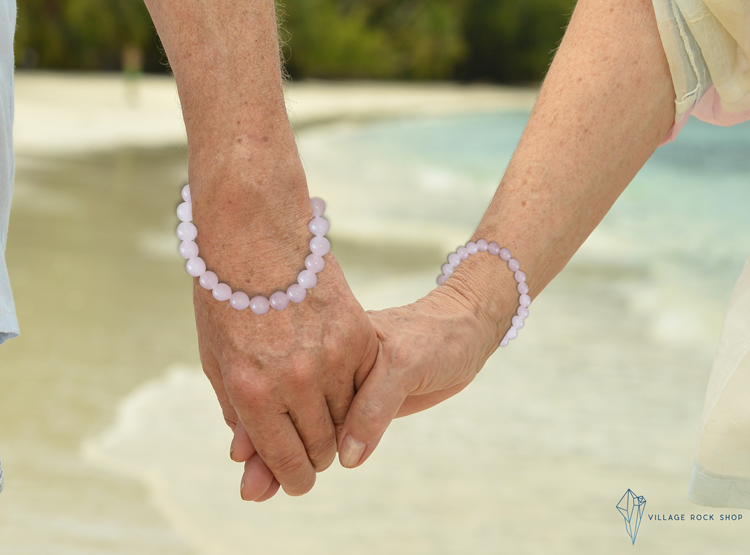 Wear matching Rose Quartz bracelets with your partner to infuse your auras with the energies of love and compassion.
Rose Quartz enhances self-love and love for others and can help you and your partner keep the passion alive, accept each other and communicate harmoniously and sincerely.
If you've been dating your lover for a long time or are already married and wish to have a child, Rose Quartz can help with its energy that promotes fertility and sexual vitality.
If you don't feel ready for a child, Rose Quartz is still a great couple's gemstone to boost sensuality and enhance your sexual chemistry.
So don't hesitate to gift your lover a matching Rose Quartz bracelet and enjoy its powerful but gentle energy together.
Matching Angel Hair Rutilated Quartz Bracelets for Energy Blockages
If you feel like some energy blockages in your relationship need to be cleared, you can try wearing matching Angel Hair Rutilated Quartz bracelets.
The Angel Hair Rutilated Quartz is often used to release energy blockages, clear the aura, and soothe.
These bracelets can strengthen your intuition as a couple, guiding you and your partner to make the decisions your relationship needs. It will also help you sync and communicate your life visions.
Angel Hair Rutilated Quartz promotes spiritual growth for both and clears the Heart chakra opening the heart for love and clearing residual trauma from past romantic experiences.
And because this type of quartz is clear white needle-like rutile inside, it can be easily incorporated into any outfit even if you and your partner have different tastes in fashion.
Matching Cherry Creek Jasper Bracelets for More Time Together
If you two are head over heels in love but struggle to find free time to spend together, you might need to wear matching Cherry Creek Jasper bracelets.
This crystal, also called Red Creek Network Jasper, has the right energy to promote better organizational abilities and quick thinking and support you in finding free hours into your schedule for love.
These matching bracelets can support your relationship in times of overwhelming stress and worry and promote relaxation, harmony, and balance.
Cherry Creek Jasper is also known for its firm grounding and protective energy.
So when you feel external factors such as a full work schedule and lots of hours spent studying affecting your interactions with your lover, it's time to get some energetic support to get through the harsh times together.
Matching Canadian Jade Bracelets for Rebuilding Trust
Matching Jade bracelets will help those who need to learn how to rebuild trust in their current relationship.
Reignite the love and approach your partner with hope and forgiveness by wearing matching Jade bracelets that will bring you closer energetically and physically.
Jade is said to have strong connections to mother earth; wearing Jade with your loved one will bring nature's nurturing and healing energy into your energy fields. This crystal can also increase awareness of one's harmful behaviors and protect from negative energy. So it might prove useful in breaking old toxic behavioral patterns in your relationship.
Jade can bring you and your partner joy and essential life lessons. Get matching Canadian Jade bracelets for you and your lover and recharge your energy levels together.
Matching Yooperlite Bracelets for Fighting Insecurities
We all have fears and insecurities haunting our romantic relationships from time to time, and some of them come from miscommunication, difficult-to-manage emotions, and low self-esteem.
Yooperlite bracelets can enrich our relationship by releasing negative thoughts and fears, stimulating self-confidence, and opening the throat chakra for better communication.
Couples can benefit from wearing matching Yooperlite bracelets and infusing their auras with energies that improve clear self-expression and help regulate negative emotions such as anger and anxiety.
Managing these negative emotions that are often hard to control during conflicts is essential to a couple's reconciliation and moving forward.
Pursue inner peace and balance for the sake of your relationship with the help of matching Yooperlite bracelets.
Matching Red Tiger's Eye Bracelets for Sexual Drive
Red Tiger's Eye is great for couples who want to spice up their sexual relationship.
Red Tiger's Eye crystals are often used to increase libido and sexual drive, and they can also help couples deal with sexual frustration and issues.
If you feel like you or your partner could use more courage in expressing sexual desires and passionate gestures, Red Tiger's Eye bracelets can give you the self-confidence and courage you need.
It can help create a safe space and vibe for your partner to express themselves sexually and romantically without worries.
Wear Red Tiger's Eye bracelets with your lover to increase your vitality, passion, and sex drive together.
Dissipate sexual inhibitions, feel loved, and enjoy your life as a couple.
High-Quality Crystal Bracelets at the Village Rock Shop
When you are looking for crystal products to attract love or enrich your current romantic relationship, it's important to get them from a reliable source. Village Rock Shop sources crystals and gemstones directly from the mines and dealers who bring high-quality veritable gems to our shop.
At our gift shop, you will find a variety of crystal bracelets and products to gift to your lover and use for your romantic life. When you visit our shop in Carlsbad, California, or purchase gems online, we can assist you in choosing the best crystal products for your needs and desires. So don't hesitate to email or give us a call and let us know what you are looking for. If we don't have the crystal products you're looking for, we can order them for you.