Father's Day is just around the corner and that means that most of us will try to come up with the perfect gift to express our love to our fathers. The Village Rock Shop is a veteran-led store, so if your father is a veteran and you want to surprise him with a meaningful gift on Father's Day, you've come to the right place.
Veterans deserve our utmost respect and appreciation, yet shopping for them can often seem like a tough task. Do you need some help to find something special? We are here to help! Let's take a look at some gifts for Father's Day that you've likely never thought of.
Father's Day is an exceptional occasion for each of us to show love and support for those who have serviced our country. Any of these gifts would be a wonderful start to show how much you truly appreciate your father or grandfather.
Fossils to Attract Abundance and Stability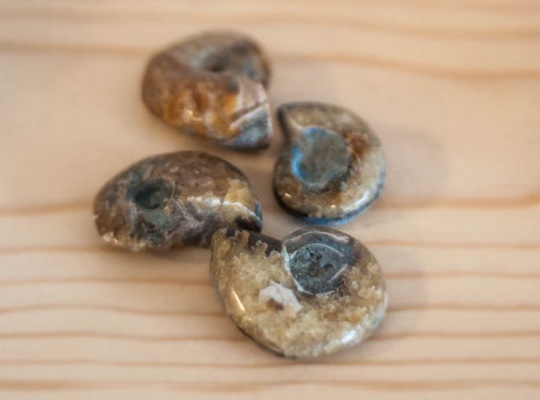 It is believed that fossils have several benefits that can positively influence our overall well-being. Here are some fossils you can find at the Village Rock Shop:
Ammonite - has a coiled, spiral structure that much resembles that of a ram's horn. At present, these fossils are commonly collected in Nepal. It is said that Ammonite can bring harmony, awakens charisma, and a sense of beauty. It can eliminate mental obsessions.
Petrified Wood - is an ancient piece of wood replaced by agate, chalcedony, or other minerals. It is the most common fossil to be collected. Petrified Wood improves concentration, eliminates indecisiveness, and helps to achieve our goals.
Stromatolite - its energy cleanses the base and the heart chakra, allowing for increased energy flow. Stromatolite helps us to understand the meaning of life's lessons and to embrace them as aids to our personal growth.
Geodes for a Pure Environment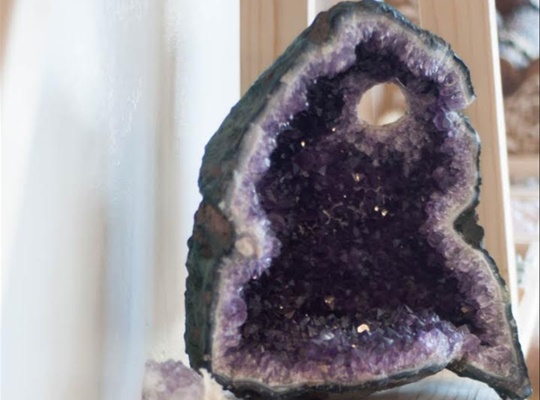 Geodes are prized among crystal collectors and crystal enthusiasts for their beautiful crystal lining inside that tends to change from geode to geode. The word geode means the "shape of the earth" in Greek. The special energy of the geode cavity can cleanse and recharge crystals. Crystal geodes are cleaning and nourishing, dispel all negativity that has come into our lives. Geodes can absorb all tensions, frustration, stress, and repel EMFs radiation from our surroundings. Geodes have higher vibrations than normal crystals and that's why they can be used to communicate with angels and spiritual guides. At the Village Rock Shop, the most popular geodes are the Amethyst, Calcite, and Clear Quartz geodes. According to Feng Shui consultants, crystal geodes placed to:
Southwest direction can create harmony
West attract creativity
North bring success in career and business
South and Southeast improve prosperity and bring fame and fortune
Palm Stones for Relaxation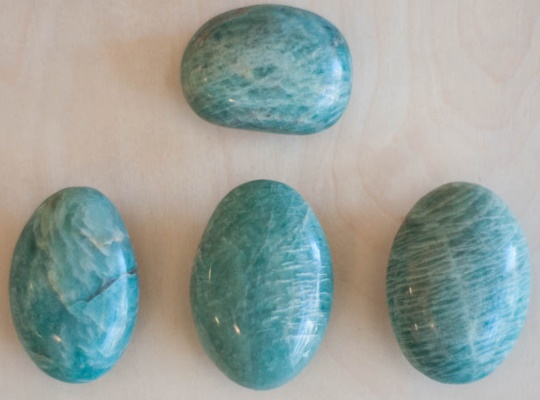 Every round or oval piece of crystal flattened to hold in the center of the palm is unique. We can hold palm stones in our palms without letting others around us notice it. It is easy to carry them around throughout the day to enjoy their beauty and their healing properties all day long. Take your palm stone in the center of your hand while you meditate or relax. For healing, place your palm stone on the affected area. Hold it in your hand and connect with its energy during stressful situations.
The most popular palm stones at the Village Rock Shop:
Black Tourmaline palm stone
Clear Quartz palm stone
Amazonite palm stone
Green Opal palm stone
Amethyst palm stone
Ocean Jasper palm stone
Hand-crafted Crystal Jewelry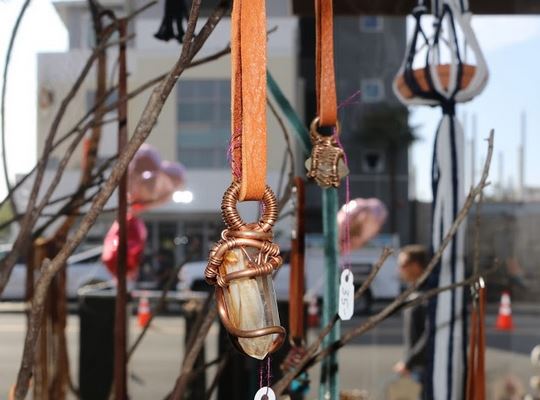 In our shop, you'll find a wide selection of crystal bracelets, pendants and necklaces. These crystal jewelry pieces are made of stones that vibrate with the masculine energy and come with a variety of crystals and gemstones, so you can select the perfect fit.
Crystal jewelry pieces can enhance the energy of the wearer and act as powerful protective talismans.
At the Village Rock Shop we offer carefully selected crystal and gemstone jewelry pieces that can complement and compliment any men's look.
We collaborate with local artists to offer unique, hand-crafted jewelry pieces:
wire wrapped crystal pendants
custom made wire wrapped crystal jewelry
stretch, easy-to-wear bracelets
necklaces