Anxiety occurs from various causes, including overwhelming situations, negative beliefs, conflicts, lack of self-confidence. Along with other alternative methods, crystals therapy can help calm the mind, heal the emotions, awaken inner strength and self-confidence.
The following gemstones help to relieve the different forms of anxiety:
Howlite -Lack of sleep is one of the main contributing factors that can lead to anxiety. Place a Howlite under your pillow, as it's calming, relaxing energy can help to have a better sleep.
Kyanite -Kyanite is an excellent stone for meditation and can help us to release negative feelings such as fear, anxiety, and frustration. Use Kyanite blades in your daily spiritual practice to help you connect with your own higher wisdom.
Rose Quartz -This is the stone of unconditional love, attracts the energies of love. It's recommended for those who need to awake self-love, self-esteem and emotional stability. Hold a Rose Quartz in your left palm for a few minutes, breathe deeply, and feel the calming, soothing effects of this beautiful light pink crystal.
Lepidolite -When you are facing difficult times, Lepidolite is the stone that will bring you relief and support and helps you through stressful times.
Ocean Jasper -Ocean Jasper is another wonderful stone for people suffering from anxiety, as it gently lifts the spirit, helps us embrace and appreciate the present moment, dispels negativity. In our daily spiritual practice, Ocean Jasper helps us stay present and centered.
Tiger Eye -Tiger Eye can help us stay centered and calm despite stressful or difficult situations that may occur in our lives. This stone teaches us to take life as it comes and keep the best state of mind to deal with problems without getting overwhelmed, stressed and anxious.
Mala Beads to Calm the Mind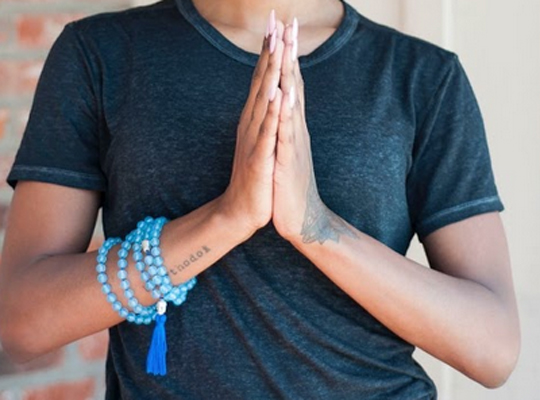 A mala is a string of beads made of stones, wood or other materials used in spiritual traditions to help to keep the mind focused and clear during prayer or meditation. It can also bring peace of mind and serenity we all need when facing stressful times and challenging situations. At the Village Rock Shop, we have a variety of beautiful gemstone mala-beads, that can be used in daily spiritual practice or can be worn as jewelry. Pay us a visit in our Carlsbad-based shop to see the crystals, and purchase the ones that you feel drawn to. We offer carefully selected:
If you need, we are here to help you to select the stones that fit your needs.
Healing Sessions to Relief Anxiety at the Village Rock Shop
If you're suffering from anxiety, Reiki or Healing Touch sessions can help to restore tranquillity, stability and calm the mind. It's important to bring your being back to balance, achieve inner strength and self-confidence to be able to face the challenges of life.