As crystals have increasing popularity and infiltrate more and more in our lives, it is time to see what crystals can be used to turn your office into a supportive environment. There are a few good reasons to display crystals in your workplace. Crystals placed in your office can:
attract positive energies that can improve the quality of your work
help to stay focused, increasing your productivity
enhance creativity and out-of-the-box thinking
create a relaxed, stress-free environment
protect against harmful EMFs
attract prosperity, abundance, and success
inspire you to finish your projects
bring awareness, strength, and perseverance
stimulate your imagination and increase your enthusiasm
create an inspiring work environment
Shungite for EMFs Protection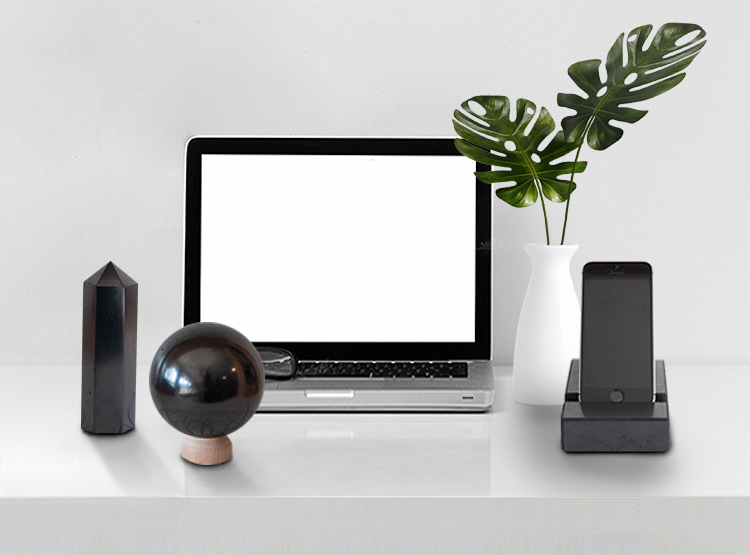 We are surrounded by many electronic devices at the office: computers, laptops, cell phones, and routers that radiate harmful EMFs. These energies can trigger stress, depression, anxiety, headaches, fatigue - none of which you want to experience at work.
This mysterious black stone comes with a powerful protective energy that will help shield you from any negative, toxic influences. Shungite has an interesting structure; it contains hollow carbon cages, and this structure is believed to be the reason for the stone's unique properties.
For a clean workspace not only physically but also energetically, Shungite is your go-to stone:
Shungite tower
Shungite pyramid
Shungite sphere
Shungite phone stand
Smoky Quartz Will Help You Stay Grounded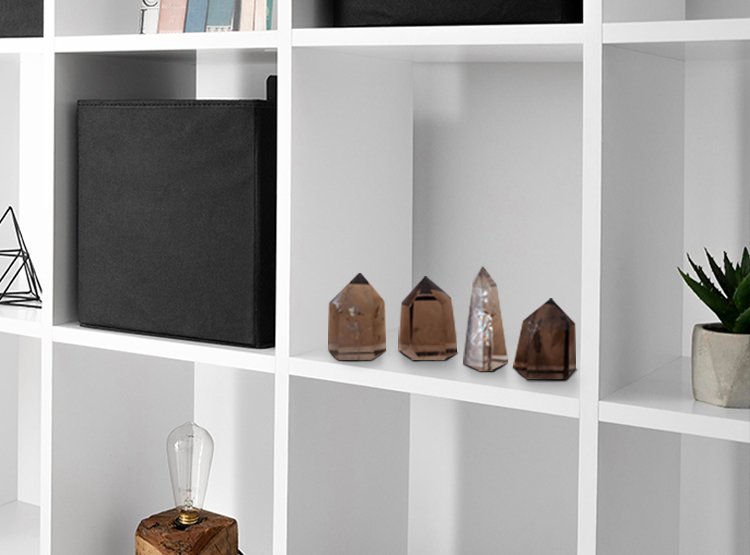 We all have periods when we feel stressed by tasks and deadlines which throws us off balance. In situations like that, you need a crystal companion to keep you grounded and centered. Smoky Quartz is one of the best grounding crystals to keep you company whenever you feel the need for a break.
Just sit back and have a few moments with this crystal to release tension, recharge, and continue your work refreshed and more grounded. The crystal's beautiful appearance makes it perfect for interior decor, Smoky Quartz towers will definitely add a touch of elegance to your office.
We recommend the following Smoky Quartz products for your office:
Large Smoky Quartz clusters
Smoky Quartz palm stones
Tiger's Eye to Boost Your Confidence Before Your Presentation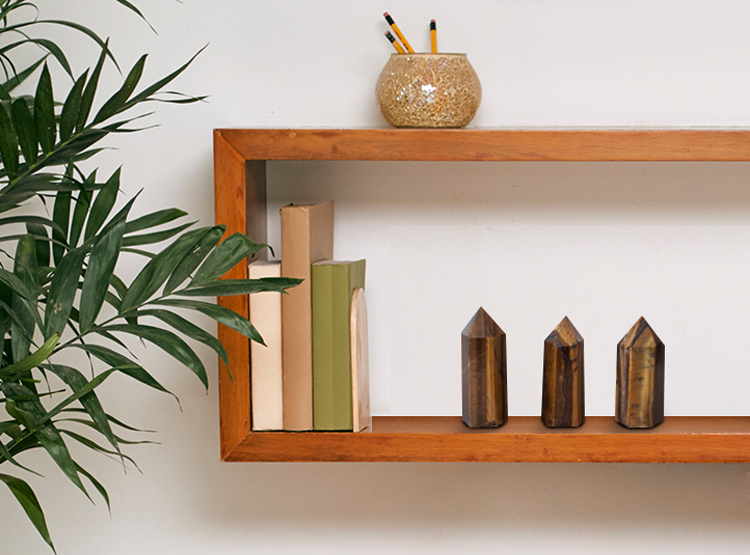 One of the Solar Plexus stones, Tiger's Eye, will boost your confidence while helping you stay focused. The stone of courage is the perfect option to increase mental clarity, decision-making, and productivity.
Tiger's Eye is your go-to stone whenever you have an important presentation or a deadline that makes you anxious. Keep this stone nearby if you want to feel more confident or be more daring at your work. For offices, our favorite pieces are the tower generators. Because of their shape, these towers can focus their energy in one particular direction enhancing mental focus and concentration.
So, when it comes to having Tiger's Eye in your office our recommendation is to have:
Selenite to Cleanse and Recharge Your Crystals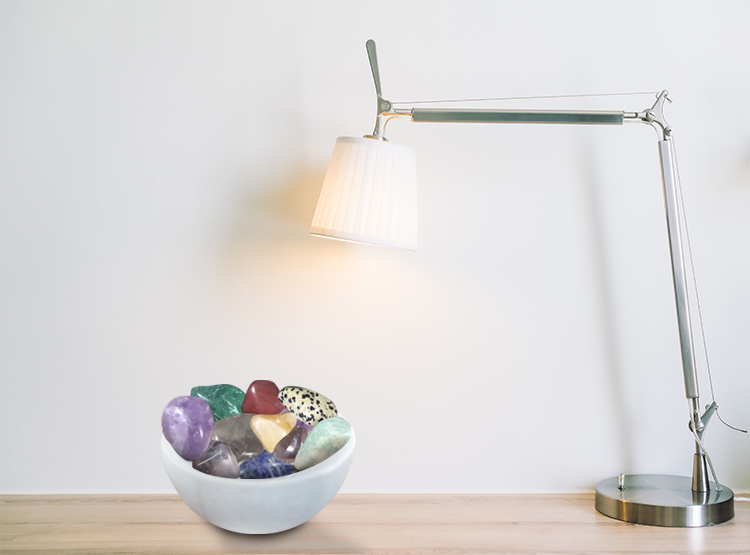 One of our favorite stones for office is Selenite for so many reasons:
Selenite can cleanse and recharge other crystals; therefore, if you have other crystals in your office, Selenite is a must-have. Every crystal absorbs energies from the environment and needs to be cleansed periodically. There are many ways to do that, but you need the simplest and easiest way since you are at the office to work and don't have time for complex cleansing methods. Place them on a Selenite slice or bowl and keep them there overnight.
The following Selenite products will look amazing in your office wherever you decide to place them:
Black Tourmaline for EMFs Protection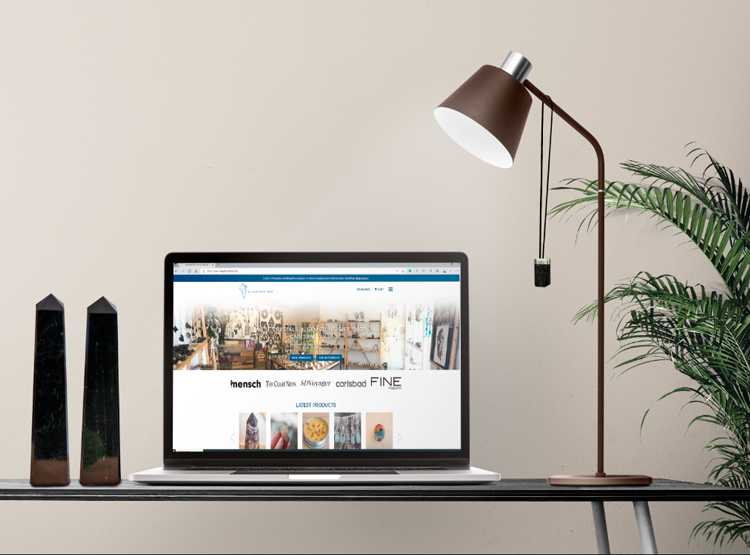 Black Tourmaline is known as one of the best stones for protection against harmful EMFs. Electromagnetic radiation coming from Wi-FI, laptops, cell phones, or other electronic devices can trigger anxiety, fatigue, headache, or stress that will affect your efficiency at work.
Avoiding EMFs when working in an office is impossible, but keeping Black Tourmaline on and under your desk, near your laptop, in the four corners of the room can reduce your exposure. It will also help you gain mental clarity and focus, boosting your productivity.
We recommend keeping the following products on your work desk:
Tumbled Black Tourmaline
Raw Black Tourmaline
Colorful, Calming Crystals for an Inspiring Environment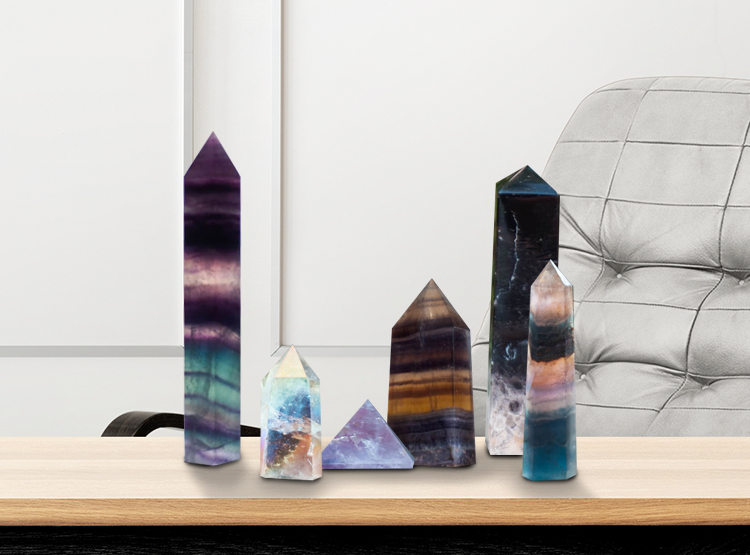 Most of us spend many hours at the office; it's the place where you need to be at your best to be efficient. With a few crystals, you can create a space where you can relax, focus better on your tasks or retire from the stress of your job.
When it comes to decorating an office displaying larger crystals like towers, geodes, spheres, and clusters is the way to go, but if you don't want to invest much in your office decor, small raw crystals on your desk or a bowl filled with mini spheres or tumbled crystals is also a good option.
The following crystals will bring a calming, nurturing vibe into your office, and their beauty speaks for itself when it comes to decoration:
Quality Crystals at Village Rock Shop
When decorating your office, choose from the crystals mentioned above or purchase whatever crystals you are most attracted to.
Each crystal has many benefits that will encourage you to stay focused, calm, creative, and productive, having a fulfilling time at work. Do you have no experience with crystals? Let us help you.
We invite you to visit our webshop and check out all the categories to find the best stones for your workspace: