I honestly don't know if crystals have ever been more popular than they are today. People have used these beautiful shiny stones since ancient times in everyday life for healing and spiritual purposes. In Egypt, Greece, and India crystals were widely used as protective talismans, healing amulets, or spiritual tools that facilitate communication with spirit guides or angelic entities.
Nowadays, crystal enthusiasts carry their crystals in all kinds of different ways to harness their energy. To fully enjoy the benefits of crystals it is essential to have them close as much as possible. Having crystals with you all day enhances the connection between your energy field and the energy of the crystal. So let's see the most common ways to carry crystals:
in your purse
in your bag
as jewelry
in a pouch
in your car
on your key chain
Wearing Crystal Jewelry
The simplest and most fashionable way of having your crystals with you all day long is by wearing them. When you wear jewelry intending to connect with the energy of the stones, we recommend choosing pendants, necklaces, or bracelets that allow the stone to touch your skin.
You'll get used to the crystal's energy more easily and reap its benefits throughout your day. There are beautiful jewelry pieces available on the market that make stylish accessories. We have a wide collection of hand-crafted crystal jewelry, made of quality crystals and gemstones from all over the world. Pieces from our jewelry collection:
Fill Your Pockets with Shiny Stones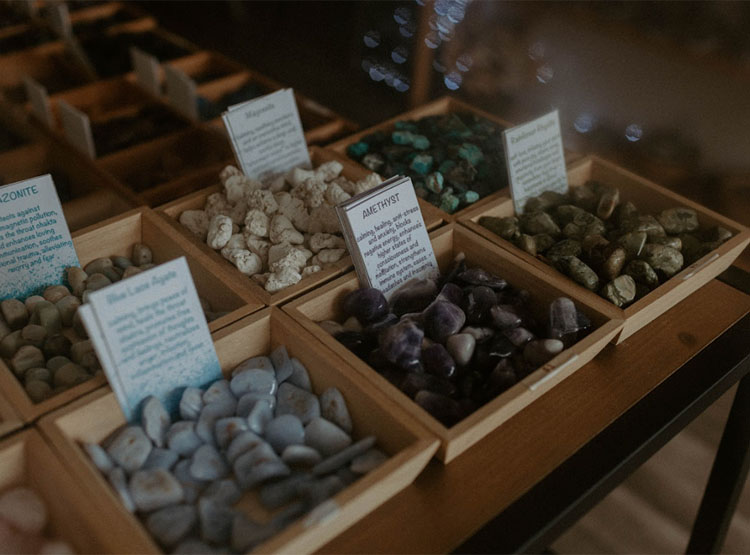 When I was a kid I loved to pick stones and carry them in my pocket. Now I carry my favorite crystals in my pocket; this way, I can access their energy all day long.
Having your favorite crystal in your pocket is the simplest way to connect with its energy whenever you feel like it. It's the perfect way to keep crystals close for those who don't like to wear crystal jewelry for whatever reason.
VRS tip: keep nothing else in the pocket where you have the crystal otherwise, you might scratch it or damage it.
Some of our most sought after tumbled stones for everyday carry:
Carrying Multiple Crystals in a Pouch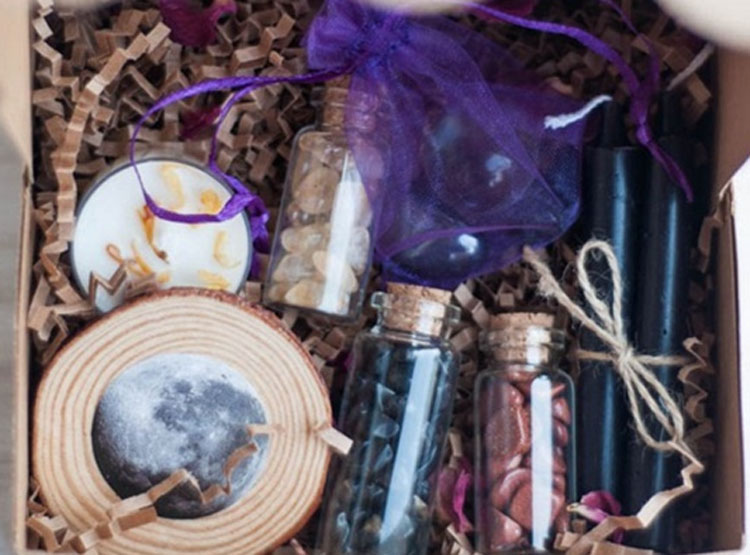 You can't have over one or two crystals in your pocket, so if you want to have your favorite stones with you throughout the day, invest in a small drawstring pouch. It is the safest way to carry your crystals, especially rare, brittle or valuable stones.
We recommend carrying crystals in a pouch:
when you want to have your 7 chakra stones with you
when you want to carry crystals that complement each other
you can put in your pouch four or more stones that resonate with a particular chakra
if you want to enhance one of your qualities, carry with you stones that can help you with your intention
VRS tip: add a touch of style and carry your crystals in a custom handmade pouch
Carrying Crystals in Your Purse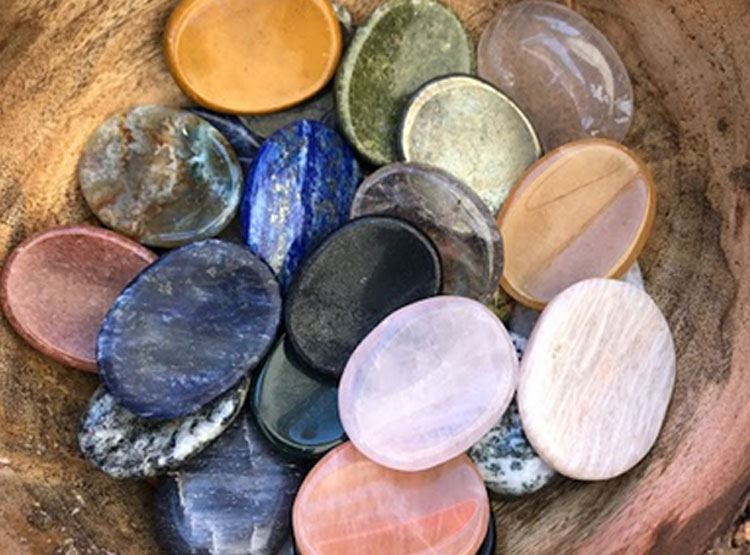 Carrying crystals in your purse is an easy way to attract abundance in all areas of your life. There are various crystals for abundance and prosperity; the energy of these stones vibrates at a frequency that resonates with the power of success, abundance, and wealth.
The following stones can help you find new opportunities, viable, creative solutions for financial problems, enhance self-confidence, and manifest your dreams.
Small tumbled stones are ideal for everyday carry. In our shop, you'll find an array of prosperity stones, including:
Crystals on the Yoga Mat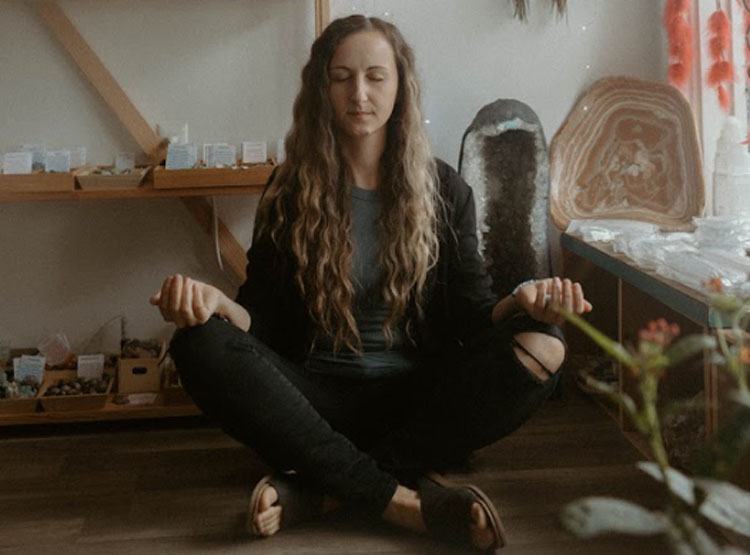 You can carry your chakra crystals in a small pouch to the yoga class and use them to enhance the efficiency of your asanas and meditation. Crystals can help you:
cut off distractions, stay centered and focused
clear your mind
achieve calm and inner peace
enhance psychic abilities
connect to spiritual realms
communicate with spirit guides
We recommend the following high vibrational energy crystals for meditation, yoga and relaxation:
Travel with Your Favorite Crystals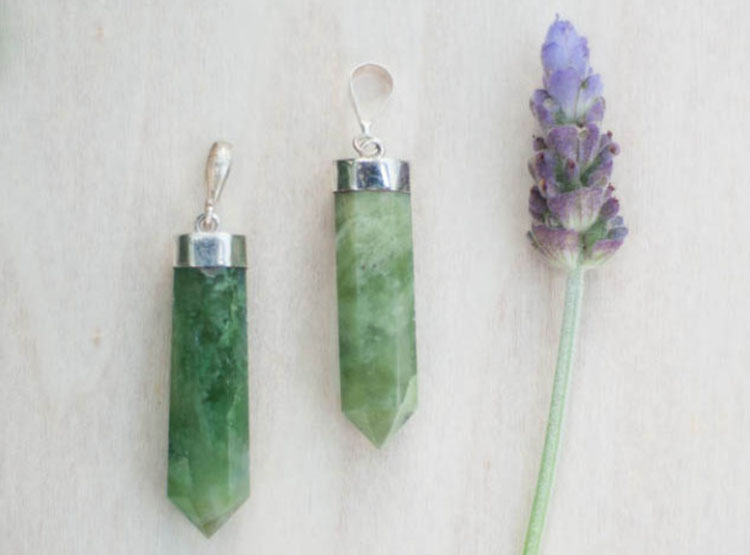 Each crystal has specific benefits depending on its properties; some of them carry soothing energy, while others promote grounding and protection.
Carry your crystals with you when you are traveling, or better, keep them in your car to ward off negative energies. We have a beautiful crystal charm collection.
Our customers love them as they can use them as pet charms, attach them to their key chains, or keep them in their cars.
Our favorite stones for protection:
Black Tourmaline
Shungite
Black Obsidian
Whichever way you choose, it is important to keep these shiny stones close, tune into their energy and let it flow through you.
Crystals for Everyday Carry at the Village Rock Shop
Trying out different crystals and carrying them throughout your day can be a wonderful experience. We invite you to visit our webshop and choose from a wide selection of small or middle-sized crystals, ideal for everyday carry.
If you can't find the stones you are looking for, pay us a visit in our Carlsbad-based store or feel free to call us. We might have the products in our store for you. We recommend the following products for everyday carry in your purse, bag, or pocket:
tumbled crystals
palm stones
moon-shaped crystals
crystal hearts
small crystal towers
small crystal spheres