What is the best quality Amethyst? We often get this question from our customers.
Amethyst is a semi-precious stone commonly found in light purple to pale lilac and lavender-pink hues.
Amethyst is one of the most popular, if not the most popular, semi-precious stones because of its beautiful appearance, wide availability, and affordability. The stone's all shades are aesthetically pleasing, but when it comes to quality, the rule is the deeper the color, the better quality the Amethyst is. The finest Amethyst can be found in Siberia, Sri Lanka, Brazil, Uruguay, Madagascar, and Africa.
Amethysts are prone to inclusions, but many of these stones have inclusions not noticeable to the naked eye. When purchasing Amethyst, look carefully at the stone's clarity, coloration, and eventual noticeable inclusions and imperfections.
Uruguay Amethyst Heart Geodes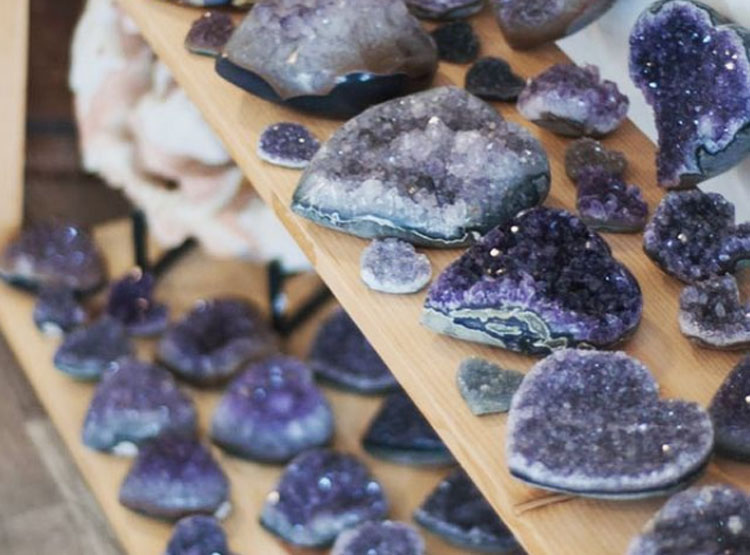 I've always loved crystals, and my favorite has always been the Amethyst. Most Amethysts appear in various purple shades, but it also comes in other colors depending on where it's mined. So I love to explore all types of Amethyst: Rainbow Amethyst, Pink Amethyst, Pineapple Amethyst to see if they have a similar vibe!
Uruguay continues to provide some of the world's highest quality Amethyst known for its high clarity and deep purple color with blue and red flashes. Uruguayan Amethyst also displays an attractive color shift from purple to pink in candlelight or sunlight.
Check out some of our Amethyst heart geodes to see how beautiful each piece is:
Uruguay Rainbow Amethyst Hearts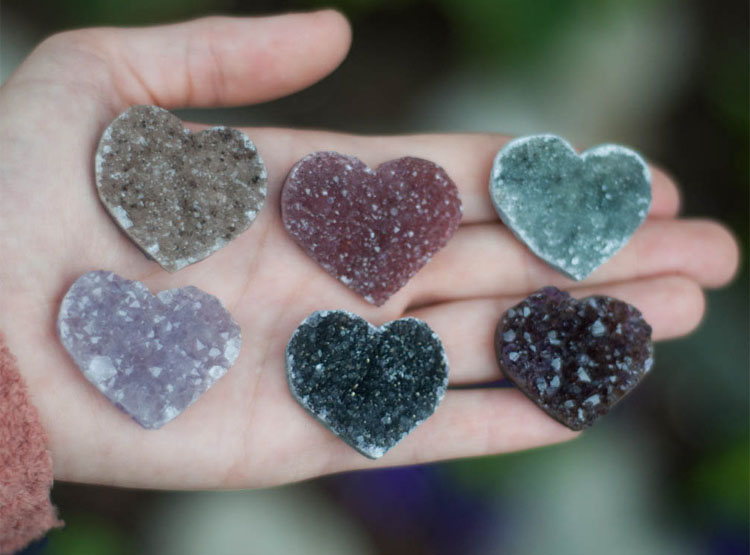 The most valued type of Amethyst for jewelry is the "Siberian Amethyst," presenting a deep purple color with blue and red flashes. Starting from the 19th century, large deposits of Amethyst were found in South America, in Brazil, Bolivia, and recently in the late 1900s in Uruguay. While much of the Amethyst mined in South America comes in pale violet to mid-toned purple, the Uruguayan Amethyst has a fascinating deep purple color.
We also have a selection of Rainbow Amethyst hearts in our store that come with striking shades of purple, red, grey, brown, and blue that fascinate all our customers. These Rainbow Amethyst heart geodes are perfect gifts for any occasion and will be great additions to any home or workspace, bringing a calming, relaxing vibe.
Pineapple Amethyst Points from Uruguay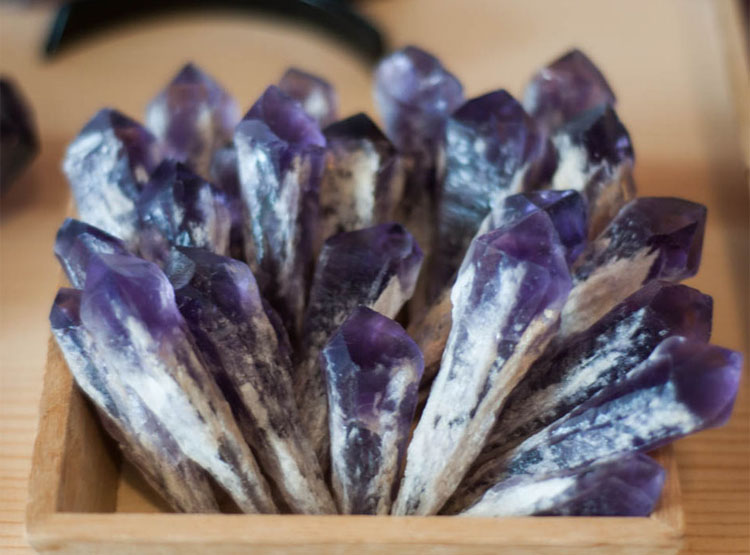 We also have a selection of adorable Pineapple Amethyst points sourced from Uruguay, which is why they have natural deep purple shades. These Amethyst points are valued for their dark color and rounded formations resembling?a pineapple.
All of these Amethyst points carry calming, protective, peaceful energies. Pineapple Amethyst points can be used for meditation, chakra balancing, crystal grids, or as unique home decor elements.
Check out some of our Pineapple Amethyst points:
Amethyst's color can fade if the stone is exposed to intense sunlight.
Large Uruguay Amethyst Geodes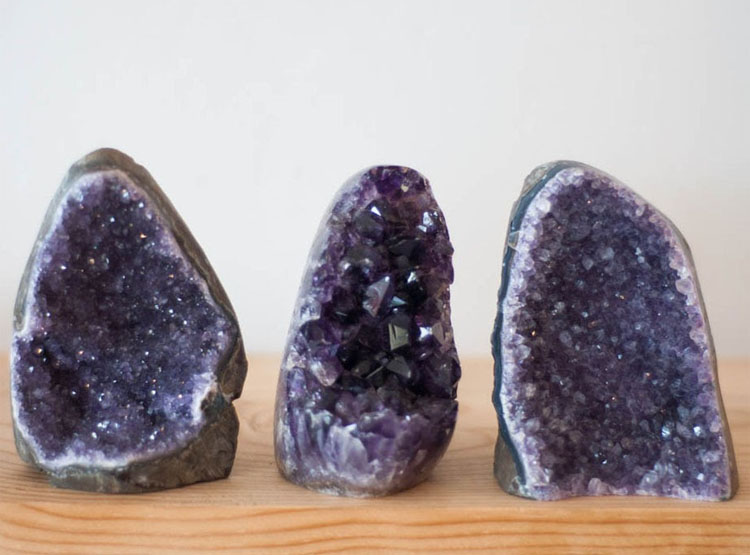 Other sources of some of the finest Amethyst are in Africa, mainly in Zambia, Tanzania, and Namibia. Still, compared with South American Amethysts, African Amethyst is found only in smaller sizes.
It's a known fact that in the crystal world, size does matter. Larger Amethyst geodes generate a powerful high vibrational energy. If you want to sleep or work in an energetically clean environment, purchase an Amethyst geode and place it in your home or workspace.
I also love to place plants and smaller crystals near these magnificent geodes to absorb their energy.
At the Village Rock Shop, you'll find a wide variety of Uruguay Amethyst geodes that can be statement pieces in any place - living room, meditation corner, or workspace.
High-Quality Amethyst at the Village Rock Shop
We source our Amethyst products directly from the mines and collaborate with reliable crystal dealers who bring high-quality Amethyst crystals to our shop. At the Village Rock Shop, you'll find a wide variety of Amethyst products:
Please call or email us if you don't find the crystal you are looking for in our online shop, as we might have it in our store, or we can order it from our suppliers. We invite you to visit Village Rock Shop in Carlsbad, California, to choose from a large selection of high-quality Amethyst crystals.