The practice of burning herbs and creating scented purifying smoke is a widespread practice in many cultures throughout the world.
Whenever you move into a new place, purchase a new product it is recommended to cleanse it to get rid of any unwanted negative energy, and smudging is one of the simplest and fastest ways to do that. Smudging may seem complex for many, but you can perform a simple smudging ritual at home whenever you feel; you just need a smudging kit.
All of these smudging gift kits are unique and contain:
Cleanse Your Home with Sage Smudging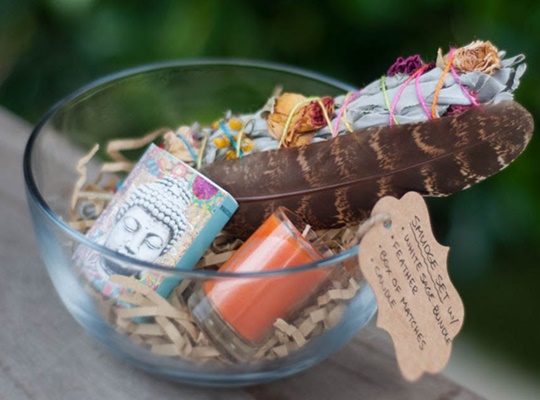 Herbs with magical properties are used to create protection from negative influences and act as conduits for high cosmic energies. These plants are some of Mother Nature's most incredible gifts and used with wisdom can help us on our spiritual journey. Spiritual herbs have been used from ancient times in healing rituals and spiritual ceremonies, in different cultures and spiritual traditions.
Sage is a perennial, evergreen subshrub with greyish leaves and blue to purple flowers. It has a long history of medicinal, cosmetic, and culinary use but it was also valued for its spiritual properties.
Throughout the Middle Ages, Sage had such a high reputation that it was called Sage salvatrix - Sage the savior. If you want to benefit from the magical properties of the sage we recommend:
Create an Intimate Setting in Your Bedroom with Rose Petals and Smudging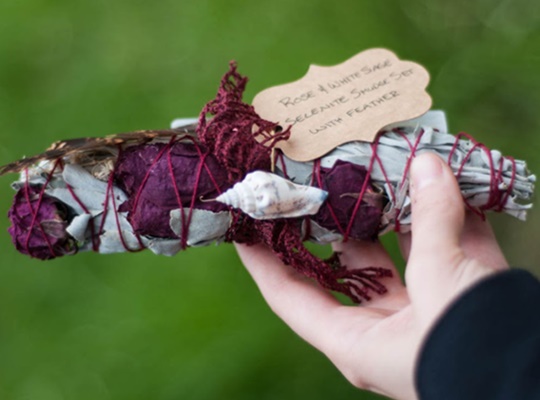 Rose is considered an ancient, sacred spiritual herb that opens the Heart Chakra and attracts compassion, understanding, and unconditional love. It brings beauty, harmony, peace and tranquillity to our lives. In Persian and Indian Medicine, rose oil has been used for its anti-inflammatory effects. Rose has also calming, relaxing properties, especially on the emotional level.
Rose petals are used in healing sessions, in aromatherapy, in spiritual ceremonies, and as a popular ingredient of cosmetic products. You don't need a special occasion to create an intimate, romantic vibe in your bedroom; rose petals and Selenite bowls will make the difference.
To benefit from the magical properties of the rose petals you can use:
Cleanse Your Meditation Corner or Yoga Studio with Palo Santo Smudging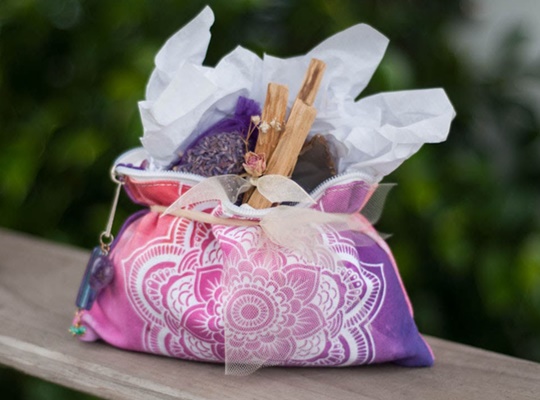 Palo Santo is a sacred tree that has been used for centuries by shamans in healing rituals and spiritual ceremonies for its clearing properties. Palo Santo can also be used before meditations and spiritual practices to purify the ambiance.
Palo Santo, one of the most fragrant woods in the world has been used to protect, purify, and heal. It will clear the negative energies, restore balance, calm, and tranquility in your meditation corner, or yoga studio. When used for smudging, palo santo creates a sacred space and uplifts your spirit. The palo santo oil is used in aromatherapy and in cosmetic products. You can also make palo santo tea by simmering the wood in hot water. To help you experience the incredible benefits palo santo we offer:
Smudging Kits with Selenite to Cleanse the Space, Crystals, or Other Objects
Selenite is a powerful source of negative ions that positively affect our overall health and well-being. Whenever you find yourself in a toxic environment, Selenite is the right crystal to cleanse the environment and your aura from unwanted negative energies.
This is the reason why we included Selenite slices or small wands in our smudging bundles or smudging kits. Selenite radiates pure energy with powerful cleansing properties, therefore it will complement and enhance the effects of smudging.
When you want to surprise your loved ones with special smudging kit gift sets, contact us, let us know what their preferences or struggles are, so we can create custom-made smudging kits.
If you don't find on our webshop what you need for your smudging ritual, please give us a call and let us know, as we may have it at our store. You will also find plenty of useful information about this ancient cleansing method in our blog.