We often go through challenging periods in our lives. In times of crisis, it's hard to find help, guidance, and support. Whether your relationship has ended, you've been involved in an accident, or you're dealing with the loss of a loved one, there are many life situations that can throw us into despair.
Few people know that in times of crisis crystals can help too. By using crystals and working with them, we can benefit from their positive vibes and healing energy. In times of crisis, we need all the guidance and support we can get. The healing energy of the crystals can be a valuable help. It can help us through hard times and make us face with courage and confidence the challenges of our lives. It is one of the simplest and easiest ways to get that extra help we need, all we have to do is to purchase the right stones, cleanse them, and work with them every day.
For dealing with crisis we suggest using the following crystals to bring strength, serenity, endurance, and hope:
Garnet the Coping Stone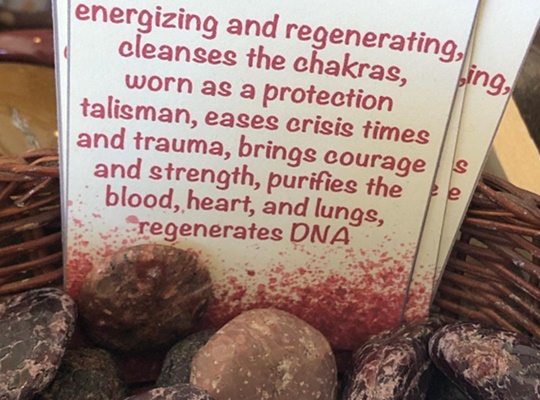 Garnet, known as the coping stone provides us with boldness, courage, and hope. It can repel all negative emotions, helping us go through tough times. It is one of the best stones for anger management.
Garnet is a good gemstone when we are battling an ongoing crisis and we feel helpless and hopeless. Garnet can be useful during recovery periods bringing vitality and protection. This powerful stone helps in desperate situations if it's worn as a talisman. Carry the stone with you in your pocket or purse, wear Garnet jewelry to enjoy its powerful energy, make a short relaxation holding a Garnet in your hand when you feel overwhelmed and stressed.
We have the bellow Garnet products at the Village Rock Shop:
Tumbled Garnet
Raw Garnet
Garnet jewelry
Lepidolite the Serenity Stone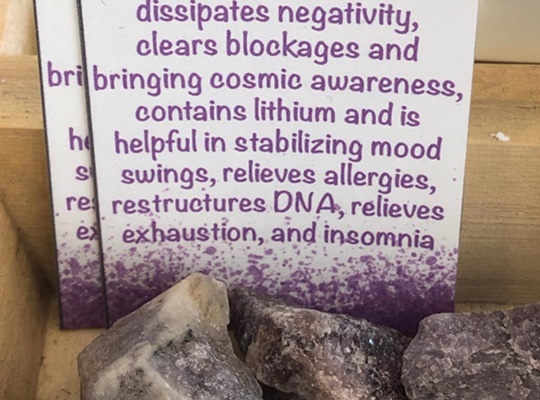 This gentle purple to pink toned stone draws qualities that can be helpful in times of crisis. Lepidolite is a brilliant stone when we need to bring balance and harmony on the emotional level. It can dissipate fear, resentment, anger and helps to awake and maintain serenity, a sense of calm and peace during times of stress and turmoil. Lepidolite contains Lithium, used also in antidepressant and anti-anxiety medication. Keep Lepidolite, with its calming vibes close, to help you go through stressful periods with a positive attitude. It is helpful in building endurance and resistance to any kind of negativity brought by worries, fear, depression, and anxiety. Wear Lepidolite jewelry, carry the stone with you and place Lepidolite in your bedroom for a relaxed ambiance.
We have the following Lepidolite products at the Village Rock Shop:
Tumbled Lepidolite
Lepidolite jewelry
Chrysocolla the Support Stone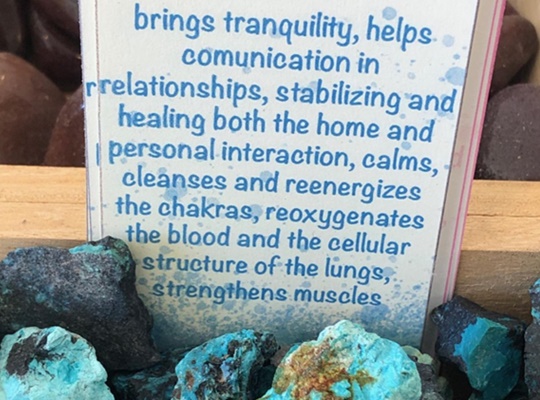 The vibrant blue Chrysocolla is a peaceful stone. It is soothing in times of crisis, gently drawing off all negative energies. This gentle stone is a great aid, especially during transitional times - breakups, divorce, or job loss. Chrysocolla can bring tolerance and understanding to discordant relationships and uncertain situations. Chrysocolla is an excellent calming stone if it's used daily. It helps to face challenges and changes with ease and confidence. Chrysocolla can be used to help to transform anger, resentment, and guilt. In times of crisis will gently assist us in bringing the energies of forgiveness, peace, and joy. Keep this beautiful stone close to you, carry with you, place tumbled or raw Chrysocolla in your bedroom to create a tranquil environment.
At the Village Rock Shop you'll find the following Chrysocolla products: