Crystal jewelry is the perfect way for people to feel more connected to the world around them and dissolve their inner obscurities. Selenite is particularly helpful in opening up higher frequencies and elevating consciousness.
Aside from the crystal's unmatched beauty and self-cleansing features, wearing selenite jewelry provides a plethora of benefits. Some of its healing attributes include:
Relieving stress or anxiety.
Enhancing intuitive capacity.
Removing blockages and negative energies.
Bringing harmony and instilling calmness to the heart and mind.
Clearing confusion and encouraging strong decision-making abilities.
While wearing Selenite jewelry, you allow the crystals to touch your skin and perform a faster transfer of healing vibrations. You may discover new aptitudes or uncover strengths that you never knew you possessed.
Benefits of Wearing Selenite Bracelets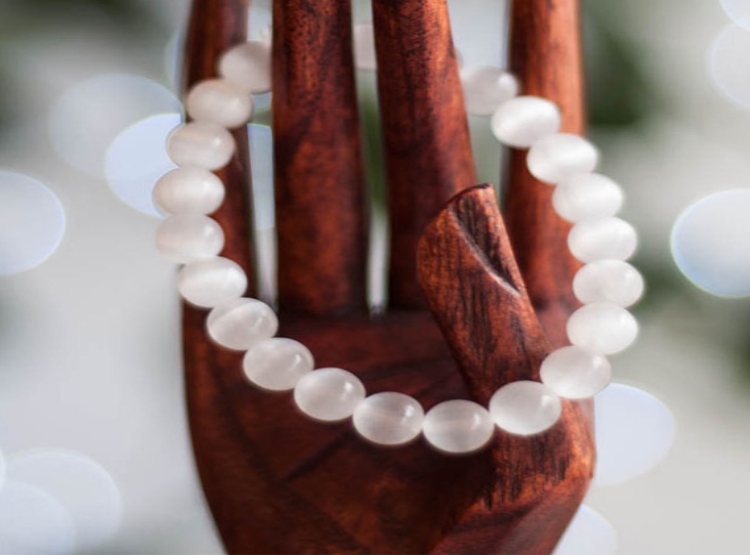 This mystical crystal radiates with universal protection and beneficial spiritual vibrations.
It is known to allow you to see the world from a different perspective and feel connected to the spirituality flowing around you.
Wearing selenite jewelry improves your style, as well as your surrounding energetic field.
Bracelets containing selenite are recommended for:
Improving memory efficiency.
Developing intimacy, love, and harmony.
Strengthening willpower, enlightenment, and wisdom.
Their calming properties, ideal for spiritual work and meditative practices.
Providing a sense of balance and creating a more positive environment that you can use for your well-being.
Benefits of Wearing Selenite Necklaces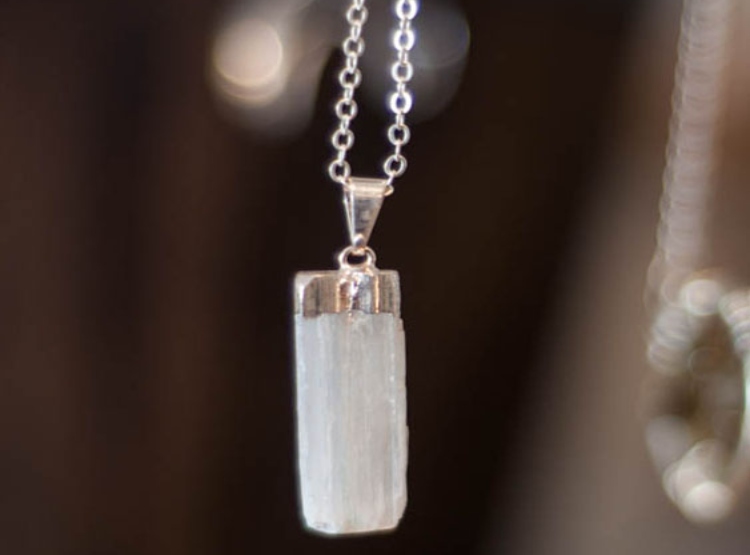 Selenite ensures daily energy cleansing and divine light absorption. It brings purification on all levels and hinders harmful spirits.
This crystal is the perfect mechanism for identifying and remodeling the causes of physical, spiritual, and emotional disorders.
Wearing selenite as a necklace works best for:
Physical healing: since it brings mental focus, selenite's healing benefits also extend to the body, helping with the digestive process, fertility issues, and various aches.
Emotional healing: it does not only improve relationship heartbreak and sorrow but can also prevent panic attacks ensuing from post-traumatic stress while offering a positive outlook on life.
Spiritual healing: selenite can help provide guidance and direction from a divine perspective and connection with higher powers.
Selenite Jewelry at the Village Rock Shop
Whether you are just searching for personal growth or just want to find the perfect present for your significant other, Selenite jewelry is always the ideal choice.
A crystal piece with a unique design and exceptional healing properties can be a priceless, everlasting gift. Selenite gemstones can also be the perfect addition to any jewelry combination.
At the Village Rock Shop, we have a wide variety of handcrafted selenite jewelry. You can get personalized healing necklaces and bracelets for both women and men. Selenite products can be used as more than pieces of jewelry - their benefits can attract the change you need.