Who did not experience a state of delight caused by the appearance of a rainbow high above the horizon? The rainbow represents the radiant, colorful bridge that transcends the earthly realm. We do not have the chance to admire a beautiful rainbow every day.
Suncatchers or rainbow makers are designed to bring that unique phenomenon right into your home. Crystal suncatchers or rainbow makers are ideal housewarming gifts.
You can find them in a wide array of shapes, colors, and styles to suit your home's style and your preferences. These crystal suncatchers are perfect home decor items for rooms, patio, garden, or workplace. If you want your room to be bathed in rainbows you just need a suncatcher.
Here are the most popular suncatchers at the Village Rock Shop:
1. Crystal Ball Suncatchers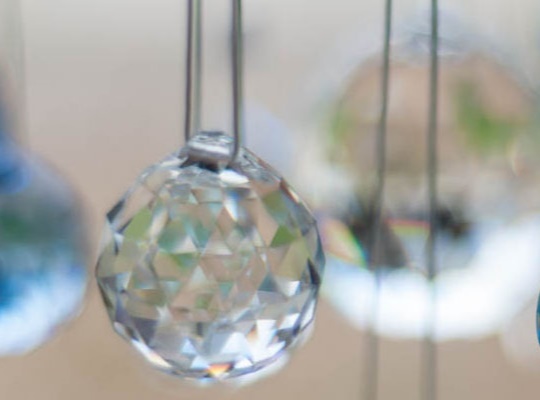 Crystal ball suncatchers come in a variety of sizes and beautiful colors - green, blue, white, yellow.
This beautiful crystal ball suncatcher is guaranteed to fill your room with radiant rainbows when the sun shines through your window. It hangs from a flexible, stainless steel soft wire and it is made of Swarovski crystal.
The crystal ball suncatcher can be an ideal gift for :
Christmas
Baby shower
Birthday
Housewarming
Mother's Day
2. Crystal Angel Suncatchers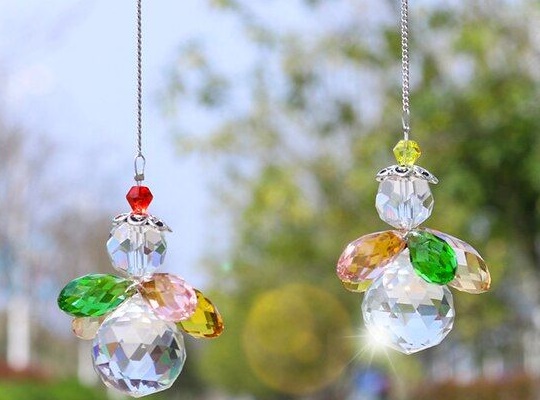 Crystal angel suncatchers are extremely popular. A beautiful angel suncatcher will bathe your room in rainbows and bring more peace and harmony into your home! It can be an inspired gift for anyone who likes angels.
Angels symbolize faith, devotion, love, hope, purity and divine guidance in many spiritual traditions.
The crystal angel suncatcher can be a wonderful gift for :
Christmas
Baby shower
Birthday
Housewarming
Mother's Day
3. Heart Shaped Suncatcher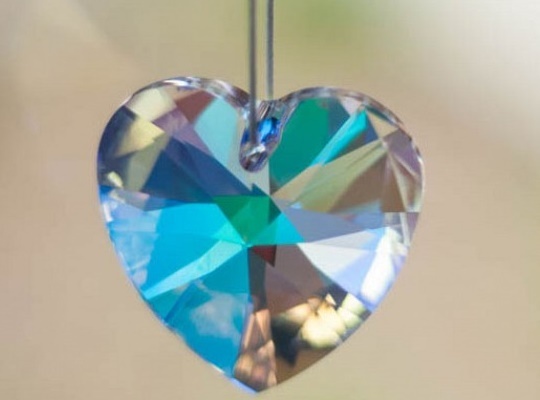 The heart is the symbol of love. Crystal heart suncatchers are made of genuine Swarovski crystal and come in various sizes and colors. A light blue heart-shaped suncatcher will definitely add some extra shimmer as sunlight pours through the window. It is an ideal home decor item for children's room, baby's room, living room, garden projects, and patios. Heart-shaped suncatchers can bring more light and harmony to meditation rooms or yoga studios.
A heart-shaped crystal suncatcher is always an inspired gift for:
Valentines Day
Anniversaries
Birthday
Bridal shower
Baby shower
4. Lotus Flower Crystal Suncatcher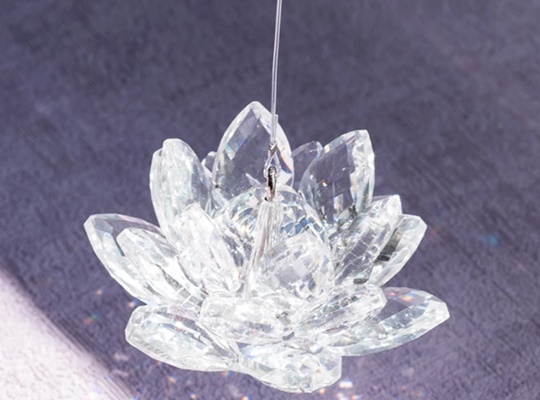 In the oriental spiritual tradition, the lotus flower symbolizes spiritual evolution, as the beautiful lotus flower grows out of the mud, but remains pure and flawless. A lotus flower suncatcher will throw off beautiful rainbow flares in your house or garden.
If you have friends or family members who love sparkling home decor items and are passionate about the oriental spiritual traditions, then a crystal lotus flower suncatcher is the next gift you should give them.
A lotus flower crystal suncatcher can be a beautiful home decor item for:
Gardens
Yoga studios
Meditation rooms
Baby's room
5. Moon Shaped Crystal Suncatcher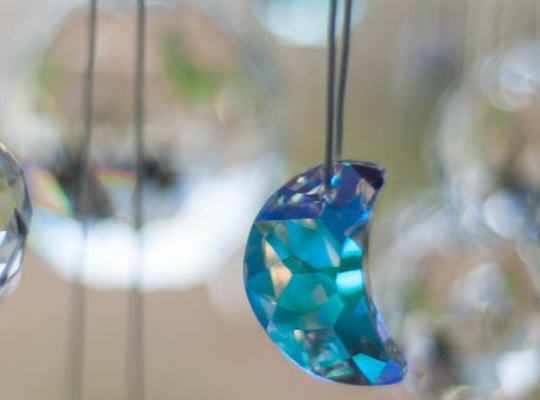 The moon reflects the light of the sun and symbolizes the time cycles, psyche, regeneration, mystery, feelings, instincts, and fertility. In many spiritual traditions, it represents the feminine energy. When you feel a special affinity to the moon or your astrological sign is Cancer, these moon-shaped crystal suncatchers are a must for your home. A moon-shaped suncatcher will fill your home with rainbows and will add some soft shimmer as the light pours through your window.
A heart-shaped crystal suncatcher is always an inspired gift for:
Babyshower
Birthday
Housewarming
Mother's Day
6. Star Shaped Crystal Suncatcher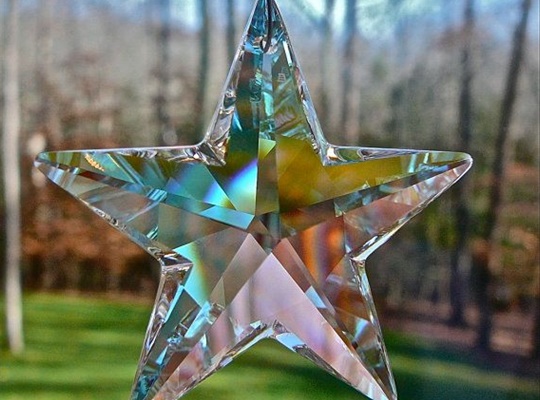 We all have experienced, at least once in our lives, the unparalleled enchantment caused by the nightly sky. Shining in the distance, stars have a special symbolism in distinct cultures and religions.
Stars are the symbol of divine guidance, aspiration, imagination, and inspiration. Combine them with moon-shaped suncatchers, and you'll have the light and the positive energies of the Universe in your home.
Star-shaped crystal suncatchers look beautiful in:
Gardens
Yoga studios
Patios
Meditation rooms
Baby's room
7. Butterfly Shaped Crystal Suncatchers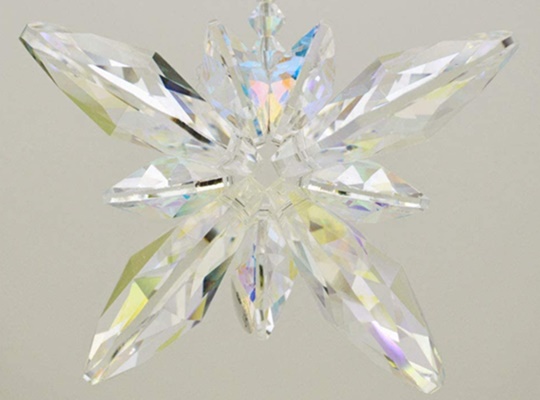 Many cultures and religions associate the butterfly with the soul. Butterflies represent spiritual rebirth, ascension, transformation, creativity, joy, and the ability to experience the wonder of life.
If butterflies have a special meaning for you or you know someone who is enchanted by them, a butterfly-shaped crystal suncatcher can be the perfect gift. It is also a wonderful idea to adorn your children's room's window with rainbow making butterflies bringing colorful light and joy into your home.
Butterfly shaped crystal suncatchers look great hanged in the:
Garden
Patio
Children's room
Yoga Studios
8. Pineapple Shaped Crystal Suncatcher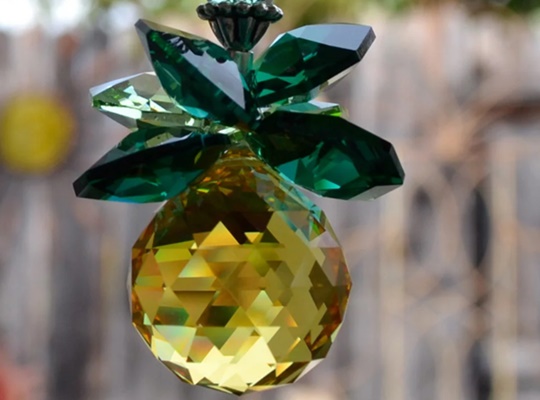 Pineapple is considered a symbol of generosity and hospitality. This colorful suncatcher makes the perfect home decor item for your kitchen, dining room or patio, bringing joy, warmth and bathing the entire room in rainbows.
The crystal pineapple suncatchers are made with Swarovski crystal balls, with clustered green crystal leaves.
It's a perfect house warming gift.
Pineapple suncatchers are perfect home decor items for the:
Kitchen
Patio
Dining room
Garden
9. Crystal Cascade Suncatcher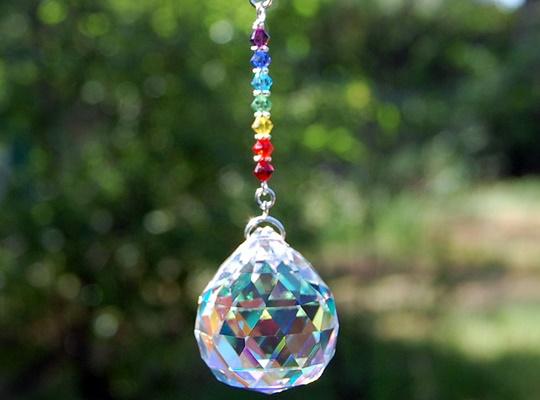 Imagine a radiant multi-colored crystal cascade suncathcer adorning your window. It's beautiful, sparkling and creates enchanting, clear light refraction. Each crystal bead shines in a unique color, you will see the shiny and dazzling light reflected from the multi-surface of the crystal ball prism. Hang this crystal ornament at your window and you'll have the rainbow that the crystal ball prism catches and multicolored light spots spread by the beads.
The crystal cascade suncatcher can be an ideal gift for :
Christmas
Baby shower
Birthdays
Housewarming
Mother's Day
10. DIY Suncatchers
Get crafty and create a unique suncatcher that will catch the sun rays and create a joyful ambiance to your home. Making a DIY suncatcher is a perfect crafting project that can be made with children. You can find inspiration for your project on the internet.