For thousands of years, crystals and stones were used for their soothing, calming and relaxing properties. Each of the following five crystals can be used as efficient aid in stress relief. Their energies will help us release and transform all kinds of negative emotions including fear, anxiety, anger or sorrow.
The calming crystals and stones can be used in different ways, however, they are more efficient combined with:
These stones can be also used with success during Reiki sessions. Each of the following crystals and stones works in a different way, but the result is similar - inner balance and a state of calm, peace and tranquility.
1. Amazonite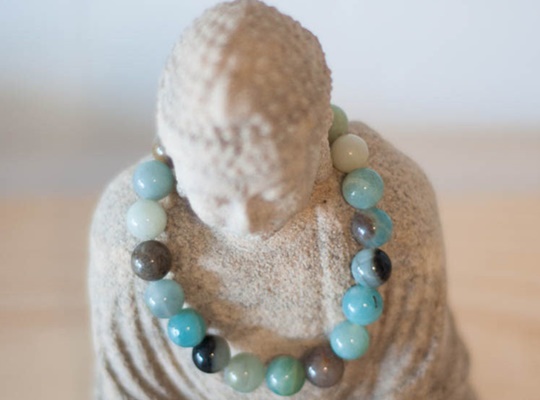 Amazonite also called the "Amazone Stone" is an excellent calming and soothing stone. It's considered being an efficient stone to calm the nervous system. This beautiful blue stone helps us to communicate our feelings and thoughts without excessive emotionality, to see problems from a higher point of view and to clarify inner conflicts and tensions.
When you visit our shop you'll find a wide variety of Amazonite, including:
How to use it: the best way to enjoy its properties is during meditation and energy healing sessions. Its rare blueish-green color makes it perfect for beautiful jewelry pieces. Amazonite skulls, spheres or hearts can be placed in our bedroom or meditation corner.
2. Angelite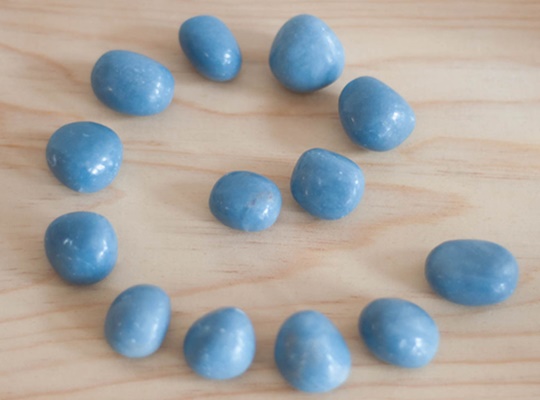 In the crystal and gemstone world, Angelite is the stone of angels, it can help us to communicate with spirit guides and angelic beings. This beautiful light blue stone emanates lightness and serenity, awakening a state of calm and tranquility. It is a must-have stone in stressful times, it helps us to transform our anger and frustration into a peaceful state of mind.
We offer a number of beautiful Angelite products including:
How to use it: it is an excellent stone for meditation, it calms the mind and helps us enter in deep meditative states. Jewelry made from this gentle light blue stone can complement even the most elegant outfits.
3. Howlite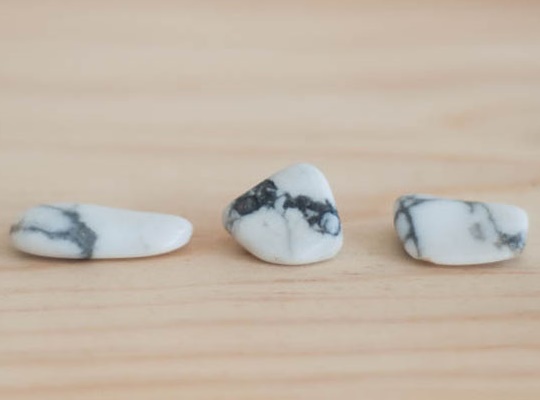 When we are undergoing stressful times, Howlite can teach us to enjoy the beauty of life in the present moment and help us to let go of attachments that are causing frustration and stress. This soft white-gray stone gently lifts the spirit and dispels negativity. It calms anger and frustration.
At the Village Rock Shop you can find this gentle white stone in various forms:
How to use it: Howlite is known as one of the best stones for insomnia, placed near the bed or under the pillow can bring regenerating sleep and peaceful dreams.
4. Ocean Jasper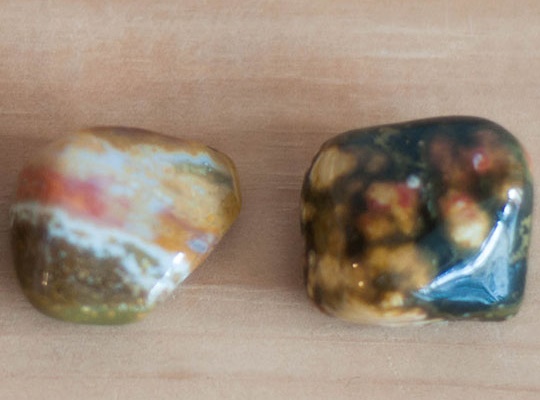 It is a grounding, nourishing stone. It can be an excellent tool for meditations it helps us remain centered and focused. It can dispel negativity and lifts the spirit, awakening the joy of life. It is a helpful stone for those who are struggling with depression, it can help them see and appreciate the positive things in life.
We offer a variety of Ocean Jasper:
How to use it: wearing Ocean Jasper jewelry, bracelets, for example, it's a simple and fashionable way to benefit from the nourishing energies of this wonderful stone. Ocean Jasper palm stones are great tools for meditations.
5. Apatite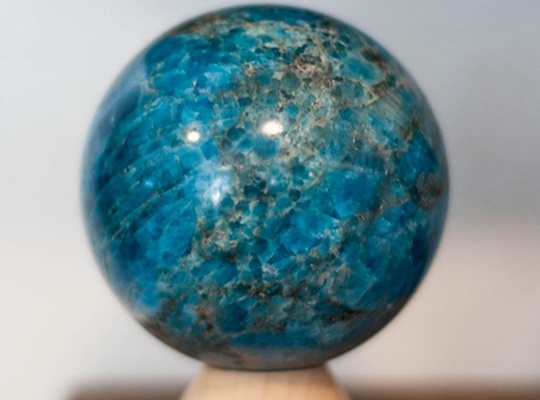 Apatite is a powerful stone that can be found in various colors - blue, green or yellow. The Blue Apatite is also called the Stone of Manifestation, while the Green Apatite is highly valued for its healing and calming properties. It can help in soothing the nervous system and maintain its health. Apatite can clear our minds of negative thought patterns and confusion, reduces irritability, frustration, releases anger, awakening a state of inner peace and balance.
At the Village Rock Shop this powerful stone can be found in various colors and forms:
How to use it: wear Apatite jewelry to benefit from its balancing energy. Place Apatite sphere, hearts or skulls in your bedroom, it can act as a powerful talisman. Due to its beautiful appearance, it can be a wonderful home decor piece.
Buy Calming Crystals and Grumpy Stones at the Village Rock Shop
We hope you enjoyed our list of the top 5 crystals with calming vibe. In our shop, you'll find crystals that can be helpful combined with efficient methods for stress relief, such as meditation, yoga, relaxation, and breathing techniques.
We invite you to visit our shop and check out the crystal products at your discretion. Some of our most popular products are the grumpy stones. Our customers love these tiny gems with grumpy faces that scare away worries and bring a smile to anyone's face. These small grumpy gems make fun gifts.
If you need crystals with soothing energy that bring peace and tranquility to your environment, let us help you find the best crystals for your needs. Can't find a particular crystal or gemstone product on our webshop? Let us know; we might have them at our store for you.