The holiday season will be here before you know it, this is the time to show your mom and grandmother how much they mean to you by surprising them with gifts that are carefully chosen and promote their self-care. They will surely enjoy that! I can't imagine a working mom out there that wouldn't enjoy a well thought out gift that allows her to take a little relaxing time for herself!
As a working mom myself, I believe gifts that allow us to take some time for self-care are the best gifts! There are a number of benefits of self-care routines, and we should be able to enjoy them on a regular basis.
Let us help you with your shopping this year! Tell us what your mom is interested in and we will create a customized self-care gift set, add a personalized note, and ship it for you! Place your order and send us an email with details: is your mom is interested in certain crystals, or you just want a good mix of natural products: crystals, gemstones, candles, herbs, smudging sprays, crystal jewelry, all-natural soaps, and bath salts.
We wish you a holiday filled with love and joy. Merry Christmas!
Rose Quartz Self-Care Gift Set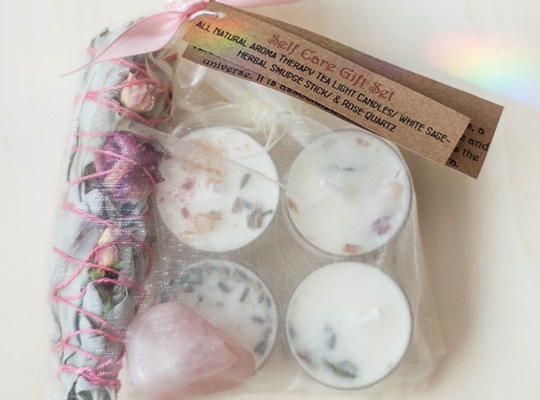 We are always busy taking care of our families, trying to keep the balance between family life and career that oftentimes we forget about taking care of ourselves! It is essential to devote time to take care of our needs, our health, and overall well-being. We can't take care of our families if we keep neglecting ourselves, it is not good for us or for those around us.
Our Rose Quartz Self-Care Kit was created with the intention to help moms realize the importance of self-love and self-worth.
The Rose Quartz Self-Care Kit contains natural, locally sourced products, including:
4 soy wax t-light candles include essential oils and herbs
1 small sage bundle
1 tumbled Rose Quartz crystal, known as the stone of love, its gentle energy can help to enhance self-love, self-care, and achieve a sense of inner peace.
Amethyst Self-Care Gift Set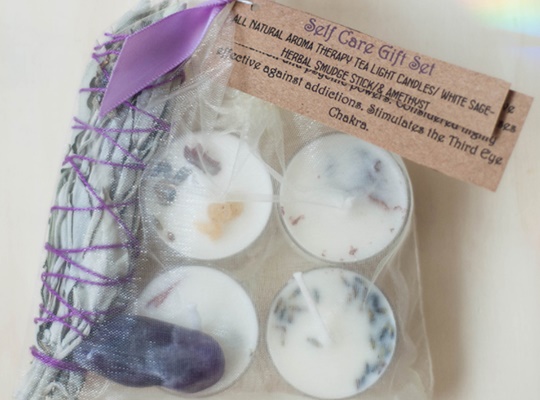 Developing a self-care routine is essential to any busy mom's overall wellbeing. A spa day is an ideal way for busy, tired moms to relax, but your mom doesn't have time or the possibility to go to the spa every day. Create a spa-like atmosphere for her with our Amethyst Self Care Kit.
Unwinding has never been easier thanks to this gift set which contains:
4 t-light candles
a small sage bundle
a tumbled Amethyst crystal, known for its powerful stress-relieving properties
Clear the space in your mom's bathroom using the smudging bundle (you can do that together), prepare a relaxing bath, add some bath salt in the water, light the candles and there's your mom's home spa. The Amethyst crystal can be placed on the tensed areas of the body or just held in the palm.
Citrine Self-Care Gift Set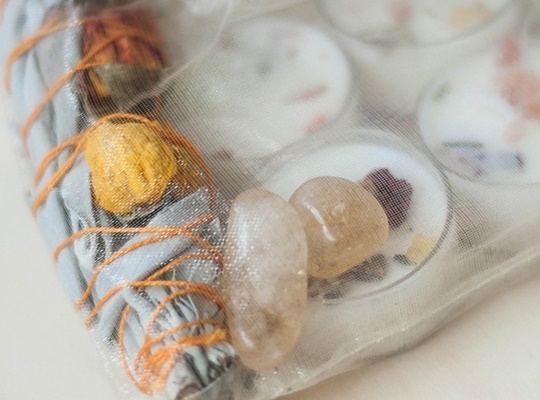 Are you looking for a gift that provides your mom everything she needs to pamper herself? When you visit our shop, you'll find a rich collection of self-care sets that offer carefully sourced products for every mom and grandmother.
This year was even more difficult for moms often juggling work, household chores, and other family obligations. Christmas is the time to surprise your mom with gifts that help her slow down a little and enjoy a relaxed evening. What can be a more thoughtful gift for your mom this holiday season than a self-care kit? We've created our crystal self-care gift sets to bring positive, uplifting, and relaxing energies into our lives. The crystals we selected for these gift sets are known for their stress-relieving, uplifting properties.
The Citrine Self-Care Gift Set comes with:
all-natural aromatherapy candles
a sage and dried flowers smudging bundle
tumbled citrines to bring abundance and joy to your holiday