There are amazing gemstones for guys to wear. Men can also benefit from the beauty and amazing qualities of gemstones.
Gemstones always have played an important role in men's lives and the unique story of each gemstone is fascinating.
Egyptian pharaohs, Roman emperors, Indian maharajas, European kings, and high priests adorned their bodies with gemstone jewelry. For thousands of years, gemstones had religious and symbolic meanings.
Shopping gemstone jewelry for men shouldn't be difficult. Bracelets are popular among men and gemstone bracelets can complement any men's outfit. To make your decision easier, we have put together a list of six gemstone bracelets for men.
Enjoy the colors, enjoy the gemstones, but most of all, enjoy the benefits of these amazing rocks.
Gemstone Bracelets for a Stylish Look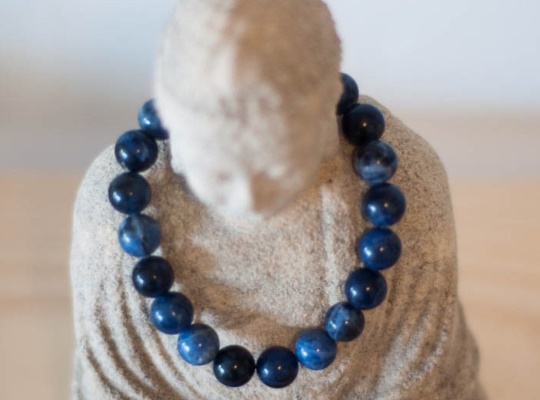 Black Onyx Bracelet - The Black Onyx is one of the most popular gemstones for men. The polished black gemstones look awesome on a man's wrist. It creates a stunning, elegant look that men love. This powerful stone absorbs and transforms all kinds of negative energy. Black Onyx helps to enhance the development of physical strength and stamina and offers support in difficult times.
Malachite Bracelet - Malachite is a very manly stone that looks like a beautiful polished marble. Its green color is completed with black streaks, dark lines, and green hues. Its stylish, unique appearance is always popular. Malachite absorbs negative energies from the atmosphere and the body. It can also protect against radiation and electromagnetic pollution. This beautiful green stone can teach men how to take more responsibility for their actions and feelings.
Tiger's Eye Bracelets - This stone looks great on any man with its dark brown tones and golden, bronze stripes. Men tend to be stubborn, rigid and often get stuck in their routines. Tiger's Eye helps them to become more open and deal with situations with more out of a box way. It increases men's willpower, adds motivation and helps them to manifest their goals much easier. A handcrafted Tiger's Eye bracelet is a great jewelry piece that complements a man's look.
Green Tourmaline Bracelets - This light green stone is one of the most important for men, helping them find inner strength, self-confidence, and willpower. It also helps in overcoming emotional blockages. A unique handcrafted bracelet made of these light green stones can be a stylish accessory for summer outfits.
Pyrite Bracelets - Pyrite helps men by attracting the energy of prosperity and abundance in their lives. It can also guide men in the right direction to make thoughtful financial decisions. This powerful stone acts as a shield of protection against negative energies and awakens the warrior energy, inspiring men to act confidently and affirm their masculinity.
Sunstone Bracelets - This beautiful yellow-orange stone resonates with the powerful energies of the Sun and awakens the harmonious qualities of masculine energy. This powerful stone helps men to transform fiery emotions, like anger and resentment, and inspires them on how to focus these energies into productive action.
Gemstone Bracelets for Men at the Village Rock Shop
At Village Rock Shop you can find a wide variety of gemstone bracelets for men.
All of our gemstone bracelets can be worn for elegant, casual, or sporty outfits. Our bracelets are handcrafted, using carefully selected gemstones and crystals.
Where to wear your bracelets?
The left side of our bodies is the receptive side, so, wear the bracelets on your left wrist when you want to attract positive energies in your life and wear them on your right wrist when you want to manifest positive intentions and energies. Pay us a visit to our shop in Carlsbad to see, feel and select the bracelets that you are attracted to or visit our webshop to order unique gemstone bracelets.