Used since ancient times as sacred items by Native American tribes, nowadays, dreamcatchers have gained more popularity not just due to their protective powers but also for their aesthetical appearance.
Once made only from natural elements, dreamcatchers have become more colorful, their style now ranging from elegant to boho chic. Some of our favorite dreamcatchers are the ones with a design that resembles the waves of the ocean. These dreamcatchers, handcrafted by local artisans could be impressive home decor elements for beach houses or vacation rentals.
There is a wide variety of dreamcatchers available in our shop, many of our clients prefer this one, because of its beautiful design:
the light brown leather-wrapped hoop that represents the circle of life
natural brown feathers, gracefully hanging
tiny blue crystals are woven into the spider web design
Dreamcatchers Handcrafted with Attention to Details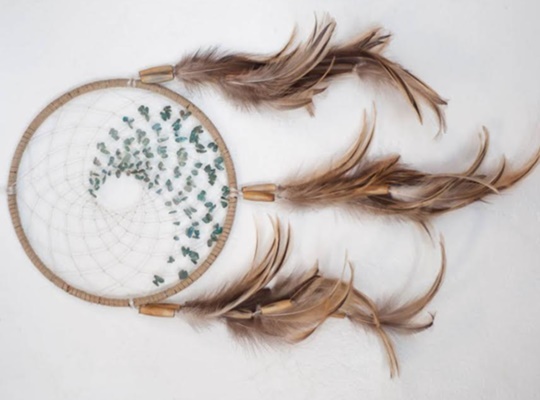 Wherever you choose to place it on your porch, window, above your bed, if you prefer a casual, whimsical vibe, this dreamcatcher will be the right fit. The dreamcatcher's neutral color will pair perfectly with the other decorations of your home.
Over the bed: The primary purpose of dreamcatchers is to protect sleeping people from bad dreams. So, hanging them above your bed's headboard might be the ideal placement of your dream catcher.
Windows, porch, balcony, front door: These are other great locations for placing your dreamcatcher. You can hang this dreamcatcher on your front door to attract positive energy into your home. Our favorite spot to hang this dreamcatcher with lots of sparkly blue crystals woven into the web is a window. You will enjoy seeing the crystals catching the sunlight coming through the window. You can also use the beach wave dreamcatcher as outdoor decor. It will look fantastic hanging on a beach house's porch or balcony.
An Inspired Gift for Any Occasion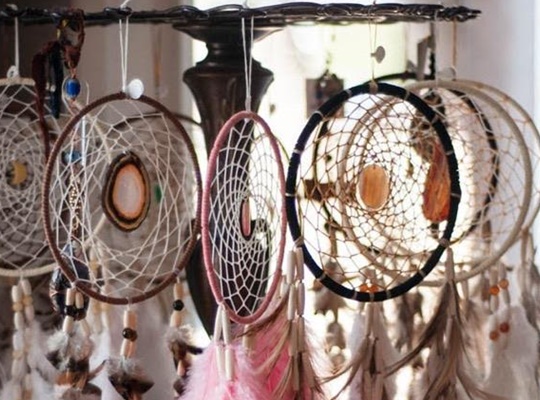 This stunning dreamcatcher has all the qualities of a perfect gift; it looks impressive, it's unique, and it brings positive energy. Our beach wave dreamcatcher can be an excellent gift for any occasion, from housewarming to weddings. You can also purchase one for your home, it will set a relaxed vibe in your bedroom. So if you are looking for a gift for someone who loves the ocean, this dreamcatcher could be a good choice.
Unique Dreamcatchers at the Village Rock Shop
A unique, artistically handcrafted dreamcatcher makes the perfect statement piece for any home. In our shop, we have many beautiful dreamcatchers designed and handcrafted with love. The design options are endless, and we can even custom make them according to your own style and preferences.
You just have to choose the design, the color, and the crystals; we'll local artisans we'll make it and we'll ship it for you.