When our clients ask me about gift ideas for their loved ones, Selenite hearts are always on the top of the list. In my opinion, the translucid, white heart-shaped Selenite crystals are some of the most beautiful gifts anyone can get. Selenite hearts are cut and polished into this beautiful shape to radiate the energy of pure love.
Selenite hearts are particularly efficient in harmonizing the emotional level and bringing overwhelming emotions under control. It is widely used by crystal therapists to clear old traumas and to bring healing and calm into the heart.
Selenite has a variety of specific properties for emotional healing:
Clears energy blocks on the emotional level
Opens and balances the heart chakra
Cleanses and strengthens the aura
Radiates pure love
Selenite Hearts Gift for Energy Healers and Spiritual Practitioners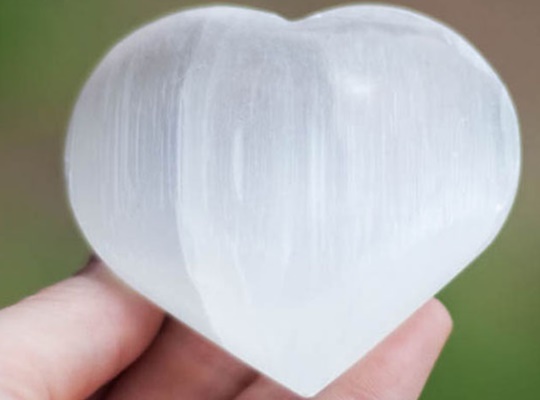 The translucent Selenite represents purity, light, high vibrations, and connection to the spiritual realms, including the Angelic Realm. When you want to connect with your Guardian Angel, hold your Selenite heart in your palm, take deep breaths, relax, focus your attention to the crystal to help you connect with angelic entities. It can be an inspired gift for our loved ones who love to meditate. It is also an efficient tool for those with a hectic, stressful lifestyle.
Selenite hearts are perfect tools for meditation and relaxation techniques:
brings a sense of peace and tranquility
helps to calm the mind,
awakens mental clarity
makes it possible to enter deep meditative states
activates and aligns the chakras
strengthens the aura
Decorate Your Home with Selenite Products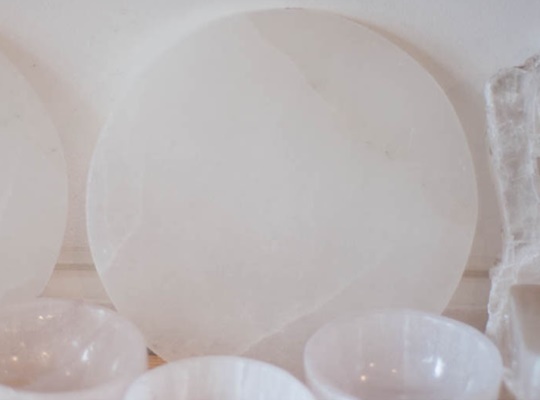 Heart-shaped crystals are excellent for displaying them in your home, workspace, meditation corner, or sacred space to dissipate negative vibes, cleanse the space, and create a pure harmonious ambiance. Selenite hearts not only purify your room but also look stunning. Selenite is a must-have tool for energy healers and spiritual practitioners. The soothing and calming properties of Selenite can have a positive impact on your sleep when kept near your bed or under your pillow. Displayed at your workspace will promote creativity and dissipate workplace conflicts.
It is also an excellent idea to decorate your yoga studio, massage, or energy healing space with Selenite hearts:
It will infuse the space with elevated energies
Your clients will be delighted by the beauty of your crystals
You'll get a pure and safe space for your sessions
It will help to connect with angels and spirit guides