Angel Aura Quartz is the result of a special coating process involving a combination of Platinum, Gold, and Silver. During this process, the crystal is heated to an extremely high temperature then coated with the combination of these precious metals. The result is the iridescent glow and all the colors of the rainbow on the crystal's surface. This angelic stone radiates rays of pure energy and fills the environment with purity and harmony. The crystal's appearance resembles the wings of an angel. It is also called Pearl Aura or Rainbow Aura.

The Angel Aura Quartz Crystal's meaning is about its resonance with the angelic entities and the Angelic Realm. It is an efficient guide to higher realms, including the Angelic Realm. When you want to contact your Guardian Angel or your Spirit Guides, hold your Angel Aura Crystal in your hands or close to your heart, close your eyes, and get tuned to the pure energy of the crystal.
Angel Aura Quartz will gently assist us during the changes and challenges of our lives. Due to its dazzling appearance, it is a popular home decor item. I love to have Angel Aura Quartz crystal in my bedroom. It's not only a beautiful decoration element but also creates a tranquil, peaceful ambiance. The crystal is highly recommended for meditation, contemplation, and relaxation techniques.
Angel Aura Quartz Cluster - Inspired Gift for Any Occasion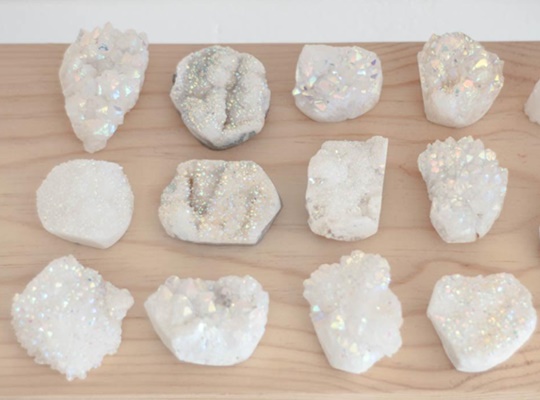 When you have an Angel Aura Quartz Cluster in your room, you will feel its peaceful, calming energy. This powerful crystal will help us maintain perseverance in reaching our goals. Another amazing property of this crystal is that it amplifies the coating metals' properties. The crystals' pure energy brings support helping us to face, confront, and transform grief and any kind of trauma.
Angel Aura Quartz is known for its unique metaphysical properties and benefits:
Cleanses and balances the chakras
Helps to create harmonious connections with others
Helps to connect our spirit guides
Creates the resonance with the Angelic Realm
Used during meditation helps to enter deep meditative states
Clears the energy blocks
Purifies and protects the aura
Things to know before you buy the crystal: the best quality Angel Aura Quartz crystal is clear, featuring the vibrant colors of the rainbow. This beautiful stone can be the perfect gift for any occasion: birthdays, anniversaries, Valentine's Day, baby showers, or any other special occasion.